Camilla Grudova - Dolls, sewing machines, tinned foods, mirrors, malfunctioning bodies – many images recur in stories that are in turn child-like and naive, grotesque and very dark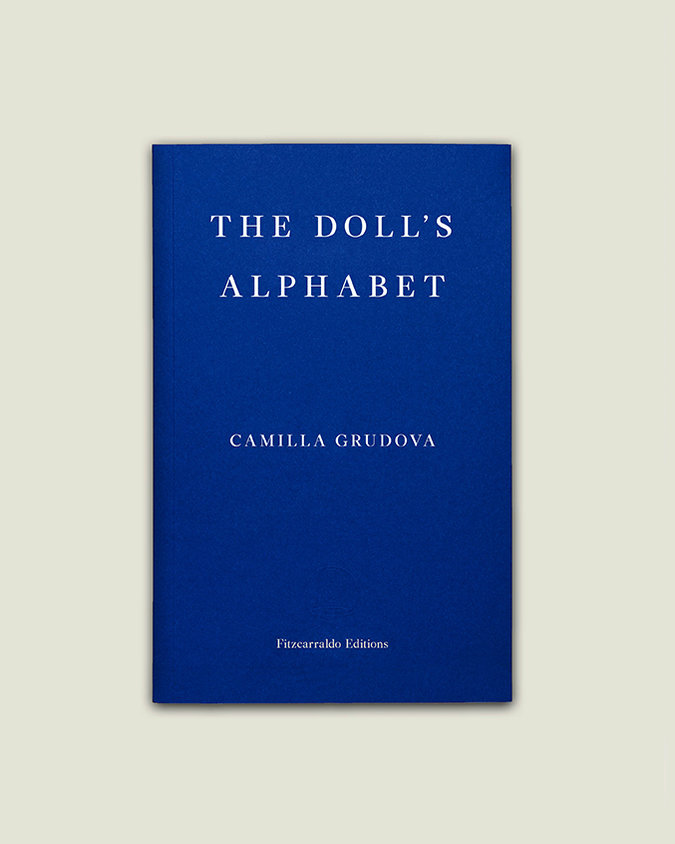 Camilla Grudova, The Doll's Alphabet, Fitzcarraldo Editions, 2017.
stories:
Wawy
(Granta Magazine)
Agatha's Machine
(The White Review)
THE SAD TALE OF THE SCONCE
(
eleven eleven
)
Surreal, ambitious and exquisitely conceived,
The Doll's Alphabet
is a collection of stories in the tradition of Angela Carter and Margaret Atwood. Dolls, sewing machines, tinned foods, mirrors, malfunctioning bodies – many images recur in stories that are in turn child-like and naive, grotesque and very dark. In 'Unstitching', a feminist revolution takes place. In 'Waxy', a factory worker fights to keep hold of her Man in a society where it is frowned upon to be Manless. In 'Agata's Machine', two schoolgirls conjure a Pierrot and an angel in a dank attic room. In 'Notes from a Spider', a half-man, half-spider finds love in a great European city. By constantly reinventing ways to engage with her obsessions and motifs, Camilla Grudova has come up with a method for storytelling that is highly imaginative, incredibly original, and absolutely discomfiting.
'This doll's eye view is a total delight and surveys a world awash with shadowy wit and exquisite collisions of beauty and the grotesque.'—
Helen Oyeyemi
'Imagine a world in which the Brothers Grimm were two exquisite, black-eyed twin sisters in torn stockings and handstitched velvet dresses. Knowing, baroque, perfect, daring, clever, fastidious, Camilla Grudova is Angela Carter's natural inheritor. Her style is effortlessly spare and wonderfully seductive. Read her! Love her! She is sincerely strange – a glittering literary gem in a landscape awash with paste and glue and artificial settings.'—
Nicola Barker
'Down to its most particular details,
The Doll's Alphabet
creates an individual world – a landscape I have never encountered before, which now feels like it was been waiting to be captured, and waiting to captivate, all along.'—
Sheila Heti
'Marvellous. Grudova understands that the best writing has to pull off the hardest aesthetic trick – it has to be both memorable and fleeting.'—
Deborah Levy
Excerpt:
UNSTITCHING
One afternoon, after finishing a cup of coffee in her living room, Greta discovered how to unstitch herself. Her clothes, skin and hair fell from her like the peeled rind of a fruit, and her true body stepped out. Greta was very clean so she swept her old self away and deposited it in the rubbish bin before even taking notice of her new physiognomy, the difficulty of working her new limbs offering no obstruction to her determination to keep a clean home.
She did not so much resemble a sewing machine as she was the ideal form on which a sewing machine was based. The closest thing she resembled in nature was an ant.
She admired herself in the mirror for a short time then went to see her neighbour Maria, across the hall in her building. When Maria saw Greta, she was not afraid for she suddenly recognized herself. She knew that she looked the same inside, and could also unstitch herself, which she did, unashamed, in front of Greta.
They admired each other, and ate almond cake as they did every afternoon, but now using their newly discovered real mouths, which were framed by steely, sharp black mandibles which felt like a pleasant cross between teeth and a moustache.
When Greta's husband came home he was horrified. He had never touched her sewing machine before – it frightened him – and he would certainly not touch Greta's newly discovered body.
She moved across the hall to live with Maria, who was a widow and no longer had a husband to frighten. She brought her sewing machine with her.
Their sewing machines were not used but kept around the house, decoratively, the way they used to keep saint figurines and dolls, and the way grander people kept marble portrait busts of themselves.
They were a sensation the first time they left the building to do their shopping. After seeing other women unstitched, it was impossible not to do it, and soon all the women in their neighbourhood had shed their skins. It brought great relief to unstitch, like undoing one's brassiere before bedtime or relieving one's bladder after a long trip.
Men were divided between those who 'always knew there was something deceitful about women' and were therefore satisfied when they were proved right, and those who lamented 'the loss of the female form'. There was also a small minority of men who tried to unstitch themselves with the aid of razorblades and knives, only to end up wounded and disappointed. They had no 'true, secret' selves inside, only what was taught and known.
On the unstitched bodies of women, there were various small hoops, almost like pierced ears, through which a red thread continually flowed, speeding or slowing, depending on the individual's mood. It was a thick, tough thread covered in a wax-like substance. On each woman, the hoops were in slightly different places and of various sizes but, otherwise, all the women looked alike.
After the unstitching, sewing machines were no longer used; the act of using one, of stitching things together, was seen as a form of repression, an outdated distraction women used to deny themselves unstitching, and so sewing machines took on a solely formal, aesthetic role, beautiful in their quiet stillness.
Exhibitions of sewing and sewing machines 'throughout the ages' were put on and greatly enjoyed, reminding women of their evolution towards unstitching consciousness.
Camilla Grudova lives in Toronto. She holds a degree in Art History and German from McGill University, Montreal. Her fiction has appeared in
The White Review
and
Granta
.