Ilse Aichinger - Here we find works of fiction where a present darkness and obscurity usher extraordinary performances into the light of day: a man bound hand and foot; a death told in reverse; a speech under the gallows. Written with disarming simplicity, this collection of stories puts language to the test
Ilse Aichinger, Bad Words, Trans. by Uljana Wolf and Christian Hawkey, Seagull Press, 2017.
"
I now no longer use the better words.
"
Ilse Aichinger (1921–2016) was one of the most important writers of postwar Austrian and German literature. Born in 1921 to a Jewish mother, she survived World War II in Vienna, while her twin sister Helga escaped with one of the last
Kindertransporte
to England in 1938. Many of their relatives were deported and murdered.

Those losses make themselves felt throughout Aichinger's writing, which since her first and only novel,
The Greater Hope
, in 1948, has highlighted displacement, estrangement, and a sharp skepticism toward language. By 1976, when she published
Bad Words
in German, her writing had become powerfully poetic, dense, and experimental. This volume presents the whole of the original
Bad Words
in English for the first time, along with a selection of Aichinger's other short stories of the period; together, they demonstrate her courageous effort to create and deploy a language unmarred by misleading certainties, preconceived rules, or implicit ideologies.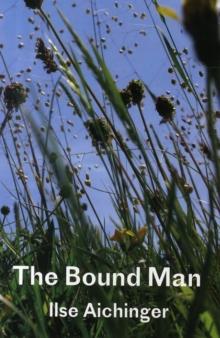 Ilse Aichinger, The Bound Man, and Other Stories, Trans. by Eric Mosbacher, Copy Press, 2015.
The Bound Man
is storytelling for our times. Here we find works of fiction where a present darkness and obscurity usher extraordinary performances into the light of day: a man bound hand and foot; a death told in reverse; a speech under the gallows. Written with disarming simplicity, this collection of stories puts language to the test.
'I remember reading The Bound Man many years ago. The story has never left me. Reading it now, along with the other stories, I am again caught in what feels like the confusion of shock, where time is fluid and the material world is an uncertain, unstable place, full of fragile hope and loss. I experience the shifts and startling turns in these stories, and their imagery, as unexpected blows to the heart.'-
Jayne Parker
My friends, a confession: I am a sucker. Little stray kittens and musty books and vegetably steamed dumplings…. these things were basically made for me. And stories like this belong on the list of things for which I'm a true sucker, and by "like this" I don't necessarily mean Austrian (though I don't mean "decidedly not Austrian" either). And I don't necessarily mean the sort of story that plucks your arteries and uses them to serenade you corrido-style. Although, again, I don't have anything against that either.
But there's something about a perfectly wrought piece of existential blues that never fails to set me on fire, and it doesn't matter how heavy the hands that deal the metaphorical blow, I just lie down and prostrate myself to it, or dip myself in candy and find the nearest wrapper, sucker-like.
And of course, if the story's painfully good (haha) on top of that, I'm a total lost cause. Wrap up warmly and enjoy it.
(and PS: I read german poorly, and there's not much Aichinger available in English translation, so if you have some, consider yourself lucky, or even better, generous (when you wrap it up and send it to me as a holiday gift)) -
Ilse Aichinger, Selected Poetry and Prose, Trans. by Allen H. Chappel, Logbridge-Rhodes, 1983.
Ilse Aichinger, Herod's Children, Atheneum, 1963.
This brilliant novel follows the lives of Jewish and half-Jewish children in Nazi Austria. As the children try to understand the meaning of the star they must wear, and the reason for the new restrictions on their lives, those around them are drawn into their fantasies. Over and over, the children act out the Nativity scene, trying to find the correlation between the star over the stable and the star they must wear. In the end, they discover the true meaning of the star, a meaning their oppressors never dreamed of. -
Rev. William H. Carey
at amazon.com
Ilse Aichinger's
Die größere Hoffnung
is included in
Sueddeutsche Zeitung'
s series of the 100 greatest novels of the 20th century. The book (the title in English is literally "The Greater Hope") was published in Vienna in 1948. An English translation -
Herod's Children
- was released in 1963 to mixed reviews. Like all great Austrian writers, Aichinger plays with language - in a sense, the novel is about the language of tyranny and horror- so it is nearly impossible to translate.
Aichinger somehow managed to survive in Vienna during the war as a
Mischling
- or half-Jew. So
Die größere Hoffnung
is in part her attempt to come to terms with that terrible personal experience. What distinguishes this novel from other works of fiction on the Holocaust is the narrative perspective - the point of view is that of a child - and the poetic style. Aichinger uses expressionistic techniques, fairy tales, Kafka-like parables, and myths to tell the story. In fact, I did keep thinking of Kafka while reading
Die größere Hoffnung.
In a sense, Aichinger writes about the world that Kafka anticipated in his work; her novel is a completion (
Vollendung
) of his vision.
The main character is 11-year old Ellen who in the first chaper is visiting the consulate in the middle of the night to obtain a visa to join her mother in America. But Ellen has no sponsor and the consul tricks her into believing that only she can grant herself a visa. For the most part, the adults in
Die größere Hoffnung
only wish to bring harm to or trick the children at the center of the story. The first chapter bears the title
Die grosse Hoffnung
/
The Great Hope
, and the novel shows how time and again Ellen's hopes - and those of the other children - are dashed: there is no escape from their fate. And yet, the children never lose hope. They make plans and envision happier futures for themselves to the end.
Rejected by the other (Aryan) children because of her
Mischling
status, Ellen joins a group of Jewish children who have been driven from from every public playground and park and are forced to play in a graveyard. Aichinger doesn't use the word Jew; instead these are the children "with the wrong grandparents". Because they have four "wrong grandparents", they are forced to wear the star. The other children view Ellen with suspicion since she does not have a star, having only two "wrong grandparents". But Ellen longs to wear the star as well so she can be accepted by the others. Much of the novel is about how the children seek to understand the meaning of the star. They reenact the Nativity over and over, believing that the Star of Bethlehem represents the true meaning of the star. Adults are drawn into the Nativity play, but they are only there to keep the children preoccupied until they can be rounded up by "die geheime Polizei" - the secret police. And so the children learn the truth about the star, although Ellen, at the very end of
Die größere Hoffnung
as she is torn apart by a grenade, comes to find yet another, more hopeful meaning in the morning star she sees rising above the bridge of hope.
At the center of
Die größere Hoffnung
is the chapter entitled "Death of the Grandmother". Ellen's mother has left for America, so she lives with her "wrong" - that is Jewish - grandmother. The grandmother wishes to die rather than be arrested and deported and so enlists Ellen's aid in committing suicide. In actual life, Ilse Aichinger's grandmother was arrested and deported to the death camp during the final days of the war. She watched from a bridge as her grandmother was transported away.
Aichinger wrote: "Man überlebt nicht alles, was man überlebt."
(You don't survive everything that you survive
)
She was asked about this in a
1996 interview in Die Zeit
:
Zeit: Was haben Sie nicht überlebt? ILSE AICHINGER: Den Anblick meiner Großmutter im Viehwagen auf der Schwedenbrücke in Wien. Und die Leute um mich herum, die mit einem gewissen Vergnügen zugesehen haben. (Zeit: What didn't you survive? Ilse Aichinger: The sight of my grandmother in the cattle truck on the Sweden Bridge in Vienna. And the people standing around me who watched with a certain amount of satisfaction.)
Ilse Aichinger has written stories, essays, plays and poetry.
Die größere Hoffnung
remains her only novel. -
www.dialoginternational.com/dialog_international/2009/06/review-ilse-aichingers-die-gr%C3%B6%C3%9Fere-hoffnung.html
No one reads
Ilse Aichinger
(b. 1921, Vienna). She and her husband, the poet, Günter Eich (now deceased), were honoured members of the exclusive and prestigious postwar literati constellation
Gruppe 47
—
Wolfgang Hildesheimer
(another author no one reads) was also a member; see
here
for an extensive roster.
Ilse Aichinger's short stories—with their haunting imagery, deft escalations of strangeness, chilling humour, poetic concision and lyricism—will leave you stirred. "The Bound Man", "Story in a Mirror", "Speech Under the Gallows", and "Where I Live" are excellent stories to read through first; the former three are her most highly acclaimed.
Unfortunately, her books, in English translation, are out-of-print, making them difficult and (usually) costly to acquire. With that said, her writing has been included in many anthologies; here's a listing, courtesy of
IBL
(be wary of shoddy translations):
-
writersnoonereads.tumblr.com/post/7726057068/ilse-aichinger
Ilse Aichinger was born in Vienna. Her published works comprise prose, poems, narratives, dialogues and radio plays. Since 1977 she has been a member of the German Academy for Language and Literature. She is the recipient of many literary awards including the Austrian State Prize for European Literature.