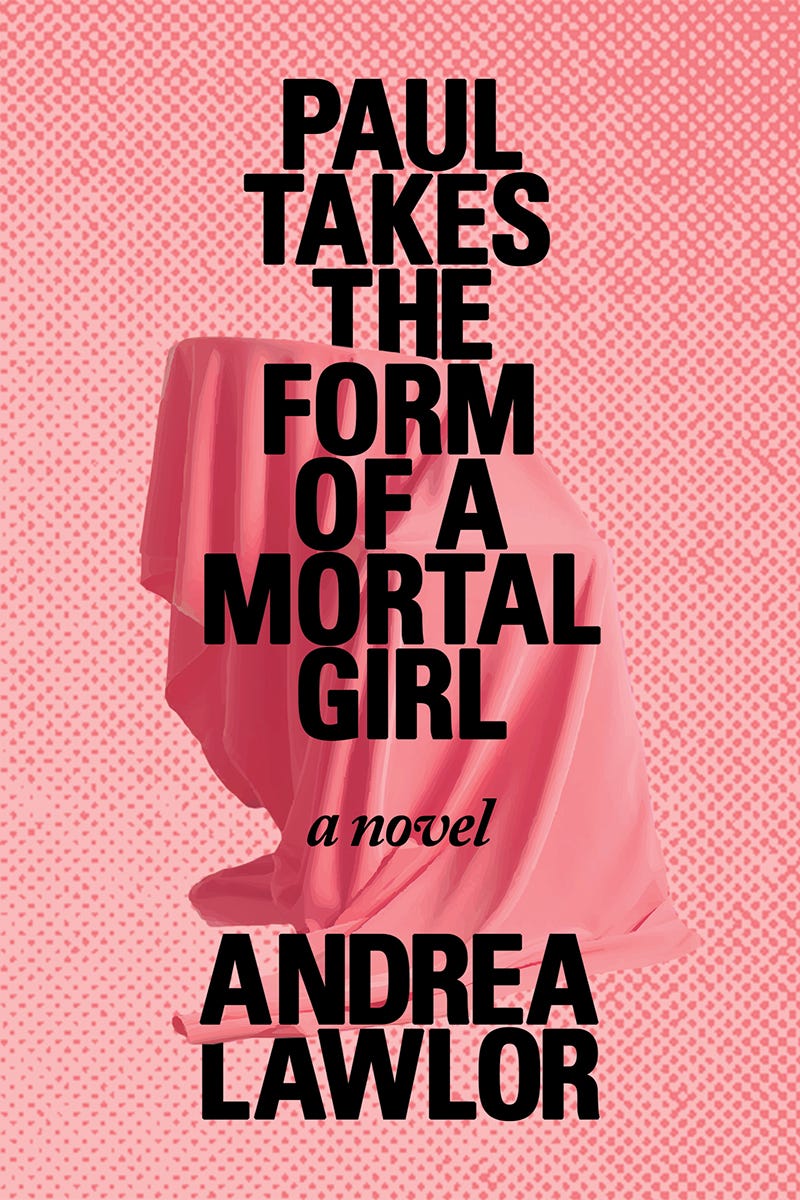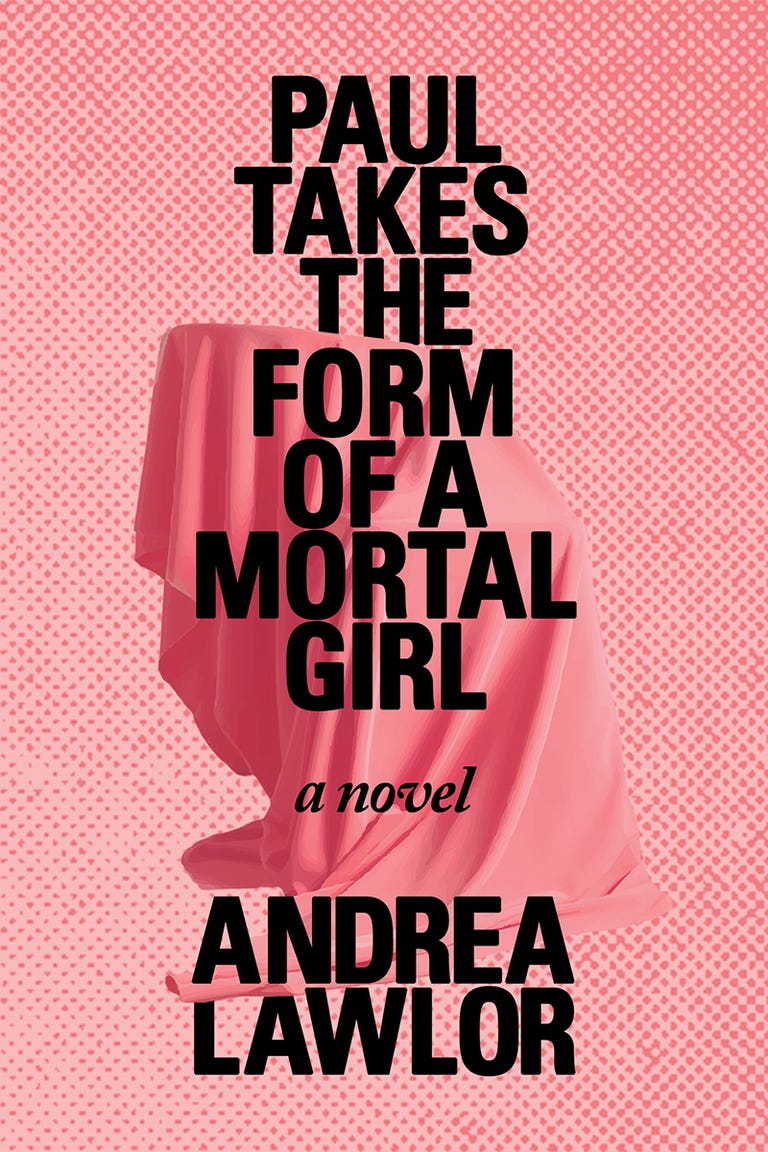 Andrea Lowlor, Paul Takes the Form of a Mortal Girl, Rescue Press, 2017.
excerpt:
Brooklyn Rail
excerpt:
Lithub
It's 1993 and Paul Polydoris tends bar at the only gay club in a university town thrumming with politics and partying. He studies queer theory, has a dyke best friend, makes zines, and is a flâneur with a rich dating life. But Paul's also got a secret: he's a shapeshifter. Oscillating wildly from Riot Grrrl to leather cub, Women's Studies major to trade, Paul transforms his body at will in a series of adventures that take him from Iowa City to Boystown to Provincetown and finally to San Francisco--a journey through the deep queer archives of struggle and pleasure.
Andrea Lawlor's debut novel offers a speculative history of early '90s identity politics during the heyday of ACT UP and Queer Nation.
Paul Takes the Form of a Mortal Girl
is a riotous, razor-sharp bildungsroman whose hero/ine wends his way through a world gutted by loss, pulsing with music, and opening into an array of intimacy and connections.
"I love this book, in all its ecstasy, wit, and hilarity. I laughed out loud in recognition and appreciation of Lawlor's spot-on portraitof an era, scene, and soundtrack, the novel's particular sluice ofpleasures, fluids, and feelings. The liberatory rush of Lawlor's writing is as rare as it is contagious, not to mention HOT. Paul is on fire,and an antihero for the ages."
―Maggie Nelson
"Fast-paced and cheeky, full of intellectual riffs, of observations so sharp they feel like gossip,
Paul Takes the Form of a Mortal Girl
is a touchingly sweet-hearted and deeply cool book. Andrea Lawlor haswritten a magic story, showing us the real magic of our world in theprocess. If you like your humor supersmart and your theory full of campand irony and heart, you won't be able to put this book down."
―Michelle Tea
"I am such a fan. Andrea Lawlor's prose is restless, muscular and playfuland uncannily able to zero in on the cultural details that make the world Paul is traveling through shimmer and pucker with truth. Stealthtoo. Lawlor is either a good 'liver' or a good liar. They know.
In
Paul Takes the Form of a Mortal Girl
Lawlor takes the ancient trope of 'the changeling' and makes it be me,you. Paul's such a funny book that studies how studied we are especially when we
go out
. Who do we seek and who or what is seeking? It's a tight satisfying masterpiece which I am
very
glad to hand you if you
happen
to love sex, clothes, literature which now includes the apparitional blessing of a new elastic genre (which
Paul
initiates) that seamlessly makes both what's
out there
and
in here
less lonely, less fixed and less fake. This book updates the present. In Andrea Lawlor's fiction the dream walks, and I watch.
Paul
's got flickering feet like Mercury."
―Eileen Myles
"Exploring the malleability of gender and desire, and paying homage to Virginia Woolf's 'Orlando,' the book follows Paul--sometimes Polly--as s/he searches for love and the 'uncontaminated truest' self. The quest leads through New York City at the height of the AIDS crisis, Iowa City's queer punk scene, off-season Provincetown, a womyn's festival in Michigan, and, finally, San Francisco. Lawlor successfully mixes pop culture, gender theory, and smut, but [their] greatest achievement is that Paul is no mere symbol but a vibrantly yearning being, 'like everybody else, only more so.'"
―
The New Yorker
"...a hilarious, original, gender-fluid novel replete with 1990s cachet, sex, and queer identity...a new benchmark for gender-nonconforming literature that introduces the undeniable skill,talent, and originality of new voice in fiction"
―Foreword (starred review)
"...a witty and raucous portrait of LGBT radicalism during the early '90s....an exhilarating picaresque hero..."
―The Washington Blade
"An intelligent and dashing work,
Paul Takes the Form
is destined to become, in the time-honored tradition of
The Price of Salt
,
Rubyfruit Jungle
, and
Valencia
, the go-to coming of age novel for the latest generation of wanderlustful rabble-rousers."
-Sarah Fonseca
A magical, sexual, and hopeful debut novel about transcending boundaries of gender to pursue emotional connection.
Lawlor (
Position Papers
, 2016) writes of Paul, a shape-shifter tending bar in a college town in the mid-1990s. Paul can change his gender and appearance at will and does so as he navigates in and out of various pockets of academia and queer culture. Paul is drawn to the act of attraction; he "relied on his ability to attract only the sorts of attention he desired," and he shifts his form as a way of constantly challenging himself to connect with more people. Paul wants access to as many circles and bodies as possible. Lawlor's prose is taut, self-aware, and carnal. As Paul tests his "own nascent malleability," the author explores appearance, attraction, sexuality, and identity. Paul's youthful exuberance and thirst for hookups are foils to his persistent feelings of isolation. The book is divided into several parts, most notably shifting when a visit to a Michigan Womyn's Music Festival leads Paul (as a woman) to both a great love, Diane, and a confrontation with his own reasons for seeking sex. "What was sex, but newness?" he asks himself. Eventually Paul has to decide on the level of intimacy he desires; specifically, who he wants to tell about his body. This suggests that intimacy is knowledge of an identity that transcends the corporeal form. Dispersed throughout the story are short chapters with the feel of legends, each fable hinting at issues of gender. In the final third of the novel, Paul moves to the Bay Area, tests the limits of his ability to hold a form, and does his most mature self-examination.
This is groundbreaking, shape- and genre-shifting work from a daring writer; a fresh novel that elevates questions of sexual identity and intimacy. -
Kirkus Reviews
Lawlor's novel introduces hefty topics in a highly entertaining, fresh, and thought-provoking way.
With their debut,
Paul Takes the Form of a Mortal Girl
, Andrea Lawlor delivers a hilarious, original, gender-fluid novel replete with 1990s cachet, sex, and queer identity. It's an entrance that accomplishes what few writers can, addressing self-discovery, connection, and acceptance in a raucous, inventive way.
Have you ever wished you could be the opposite sex, whenever you wanted? Meet Paul, a shape-shifting, gender-nonconforming college student whose motivating desire is to be as hot as possible, no matter what sex he chooses to be.
Paul is adrift. Minimally showing up for classes at a Midwest college, Paul spends much time hunting for sexcapades, free coffee, and food. With Paul's ability to consciously change appearance and gender, these interlope into as many subsets of queer culture, college life, and one night stands as are available, all while demonstrating their inexhaustible knowledge of riot grrrl music and running fashion commentary.
While providing all the aesthetic of mid-1990s queer culture, and satisfying all physical urges while morphing between man and woman, Paul's shallowness masks deep feelings of isolation and yearning to connect with someone.
Lawlor masterfully exhibits their knowledge of gender identity by creating fully realized LGBTQ characters and avoiding stereotypes. They slyly intersperse the narrative with short, Brothers Grimm-like fables and fairy tales that question the historical impact of gender identity that is passed down from generation to generation.
Even with Paul's snarky humor, the story makes a pointed case that desire, and being desired, are universal attributes, regardless of gender or sexual orientation. It subtly conveys Paul's isolation by refusing to make Paul choose a gender or an orientation, instead having him search for a reflection, a kinship that supersedes anatomy.
Gender-fluid and gender nonconforming literature is underexplored in general, but Lawlor's novel introduces hefty topics in a highly entertaining, fresh, and thought-provoking way.
Paul Takes the Form of a Mortal Girl
is a new benchmark for gender-nonconforming literature that introduces the undeniable skill, talent, and originality of new voice in fiction. -
Monica Carter
https://www.forewordreviews.com/reviews/paul-takes-the-form-of-a-mortal-girl/
"WHAT CONFIGURATION of power constructs the subject and the Other, that binary relation between 'men' and 'women,'" asks Judith Butler in
Gender Trouble
(Routledge, 1990). "Are those terms untroubling only to the extent that they conform to a heterosexual matrix for conceptualizing gender and desire?" she continues. These are the foundational questions at the heart of Andrea Lawlor's debut novel
Paul Takes the Form of a Mortal Girl
(Rescue Press, 2017), which quickly propels its readers into Paul's world — an at times confusing and exhilarating environment in which sexuality and adventure know no limits. Taking place in the 1990s, the novel is a concoction of unexpected interactions that place Paul at their center, though he is no novice. He is able to change his appearance and gender on demand and in a manner of minutes. Switching from Paul to Polly, he is the kind of mythical character that readers usually encounter in works such as Ovid's
Metamorphoses
. Nevertheless, Lawlor thinks up a character that is irreverent, oozing profusely of promiscuity, and cruising life as if it were a colossal sex club, sleeping with whomever comes his way or expresses interest in doing so.
He whimpered as the rock star unbuttoned her jeans and pulled out her plastic cock, black and shiny to match her rock-star shininess. I am being penetrated by punk, he thought as she thrust into him, pushing his legs apart, collapsing onto him like a pistoning flesh blanket.
We first meet Paul as a teenager and film aficionado aching to get his hands on a pair of breasts or an erect penis. Within the first 30 pages of the book, Paul has already been intimate with two individuals of opposite sexes, switching gender between the two encounters. We quickly learn that Paul's gender is mutable and that he'll transform his body any time he thinks he might get something from the person he is interacting with, be it a sexual release or conversation. At first, Lawlor's prose feels intentionally confusing. Paul switches genders but the pronouns used to qualify him never change. He is always referred to with a male pronoun and very rarely does he introduce himself as Polly, his female counterpart. At least, to the readers, he is always spoken of as Paul. Interestingly, it is important for him that his name represent perfectly the individual he embodies, though he is not interested in facing the societal backlash that may come of it.
He wasn't ready for the obvious question that so far no one had had the opportunity to ask in the sober daylight. What was he? Even a film major knew that matter must come from somewhere. When his penis went away, where did it go? Or was it all an illusion, something he could make people see?
While Paul apprehends the way in which he will be perceived, understood, and judged by those who walk the same streets as him, he also craves physical attention and grovels to be seen. It's this kind of erotic need for attention and societal requirement of anonymity that makes Paul so exciting. The groveling here is not passive, nor is it submissive. It is completely empowering. His state of desperation for physical contact is a weapon of dominance and the fact that he identifies as not having a type, ultimately makes him a democratic lover, and, as a result, relatable and highly contemporary. It's through Paul's constant eye for the next encounter, a knack for spotting out those with the interesting stories, and his insatiable need to experience everything all at once, that Lawlor manages to make the body a social tool that can be used to climb up the ladder — or slide face down to the bottom, as the case may be: "Paul is the game; Paul hunts only hunters. He hunts to be hunted […] Paul
is
sex, he is effortlessly sexual, effortlessly masculine […] his body is public property, his face a test."
His appetite for
any
lover fades when he meets Diane at an all-female festival. To attend, Paul has to transform and maintain his body in its female form, and attempt to blend in as much as possible without getting caught. Working shifts in the kitchen in exchange for free festival entry, Paul meets Diane, whom he almost immediately falls for. This is the first time Paul is forced to sustain a female appearance for a long period of time, though the text itself never ceases to call him Paul, and the characters within the story Polly. Diane does not know about Paul's extraordinary ability. The dramatic irony that Lawlor puts into place at this moment and at every step of the way is in part the reason why each event that punctuates Paul's life pierces through the reader relentlessly. Paul's relationship with Diane will determine and redefine his general philosophy around relationships, which, up until this point, he runs away from before they become too involving. Readers watch Paul mature as a woman:
Paul felt a flutter of shyness, a shy girl flutter, the flutter of not knowing if he was making a friend or something else. This was a strange experience for him, for whom all were prey, and he located the feeling in his new body. He was now having girl-feelings. Weird.
Just like readers witness him work through the difficult task of navigating a sexuality that he at times cannot control and that places him in a community he does not always identify with:
He'd sense his own nascent malleability for years, since childhood. At first, he'd assumed all gays were like him and had quietly decided not to mention that they could choose. But he had pieced together over time, without revealing too much, that he was even to the gays a freak. He was alone in this world. He regarded other gays now with mild condescension.
That Paul blends in better in the world as a woman, an identity that hardly ever comes to life in the text itself, contributes to the question of his origin story. In what reads as a fairy tale episode, Lawlor interrupts the narrative to let the readers in on a secret: who Polly is. In this tale, Paul and Polly are twins abandoned by their parents in a forest. "I am driving to a place very far away, where only women and children live," says a woman they encounter along the way. Polly chooses to leave with the woman: "Paul will only grow up to become a man, and he will have to leave then. I will come with you and never leave," says Polly, quick to abandon her twin. "'Brother,' said Polly, and she placed her left hand formally on Paul's shoulder. He felt a strange current flow through this body. 'You will be son and daughter to our parents now.'"
This in mind, it's easy to conceptualize Whitman's famous saying: "I am large, I contain multitudes." It's also easy for one to read this work as one
would
read a fairy tale, believing every detail, not questioning the characters' actions, and taking them as fact. Despite the countless interactions Paul has with individuals who keep coming and going in and out of his life, the stability of his character, the believability of his thoughts, and the scenarios he puts himself in are sure to bring you to the edge of your seat — especially if you have a thing for gritty and uninhibited sexuality in writing.
Ultimately, Lawlor has written an intoxicatingly rousing masterpiece, which, as Eileen Myles puts it, "is restless, muscular and playful." Lawlor gives us a glimpse into what it might have been like to struggle with issues of sexual identity in the 1990s, though the supernatural elements of their characters' features suspend the narrative out of time, rendering it a timelessly contemporary exposé of an antihero with a heart made of fire.
His skin was electric, buzzing, humming like drugs, like fear, like New York City sidewalks, like any moment before any time he'd ever kissed anyone important.
Navigating Secrets and Capitalism: A Week in the Life of Andrea Lawlor