Erling Kagge - The book expands the concepts of silence and noise beyond their aural definitions and engages with modern culture's information overload, need for constant connection, and cult of busyness. Kagge draws on his experiences as an explorer, including a solo sojourn to the South Pole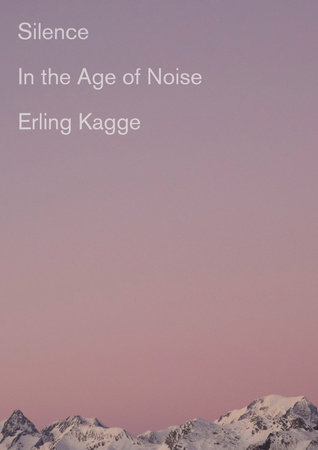 Erling Kagge, Silence: In the Age of Noise, Pantheon, 2017.
What is silence?Where can it be found?
Why is it now more important than ever?
In 1993, Norwegian explorer Erling Kagge spent fifty days walking solo across Antarctica, becoming the first person to reach the South Pole alone, accompanied only by a radio whose batteries he had removed before setting out. In this book. an astonishing and transformative meditation, Kagge explores the silence around us, the silence within us, and the silence we must create. By recounting his own experiences and discussing the observations of poets, artists, and explorers, Kagge shows us why silence is essential to sanity and happiness—and how it can open doors to wonder and gratitude.
"Breathtaking and inspiring, it teaches us how to find precious moments of silence—whether we are crossing the Antarctic, climbing Everest, or the train at rush hour."—Sir Ranulph Fiennes

"Silence braces a space within which we can hear ourselves think. Quietly, wisely, it makes a case for dumbing the din of modern life, and learning to listen again. Drawing on the experiences of Kagge's extraordinary life in wild places, this is a book of great concentration" —Robert Macfarlane

"Searing and soaring…. For Kagge, silence is more than the absence of sound: it is the incubator for thought, the conscious eradication of external distraction, and the ability to live in one's own mind as fully as one lives in the physical world. Infused with powerfully evocative art and photographs that enhance his salient concepts, Kagge's treatise on this endangered commodity provides an intriguing meditation for mindful readers."—Booklist

Kagge (Under Manhattan), an explorer and publisher, provides 33 answers to three linked questions he poses to himself—"What is silence? Where is it? Why is it more important now than ever?"—in short, meditative essays. The book expands the concepts of silence and noise beyond their aural definitions and engages with modern culture's information overload, need for constant connection, and cult of busyness. Kagge draws on his experiences as an explorer, including a solo sojourn to the South Pole and a climb up the Williamsburg Bridge, and on more mundane experiences such as his daily commute. He also takes inspiration from famous people as various as Seneca, Kierkegaard, Elon Musk, and Rihanna. An intentionally scattershot bibliography ("an attempt at listing those sources I can easily recall") may frustrate those wishing to read further. Kagge writes accessibly and economically, supplementing the text with the occasional inclusion of art and photographs. He raises some intriguing ideas—regarding, for example, inequities in access to silence and the concept of silence as a luxury—that could benefit from more examination, but the format requires that he provide only minimal analysis. Great pleasure lies in Kagge's creative investigations. The reader leaves more mindful of the swirl of distraction present in everyday life. —Publishers Weekly
A slender investigation into the idea of silence and its importance to those who dwell in the ceaseless noise of the modern world.
Norwegian explorer and publisher Kagge (A Poor Collector's Guide to Buying Great Art, 2015, etc.), the first person to reach all of the Earth's "three poles"—the North Pole, the South Pole, and the summit of Mount Everest—should be an expert on silence; he once spent more than 50 days trekking alone, without radio contact, to the South Pole in Antarctica, "the quietest place I've ever been." A dinner conversation with his family and a lecture on the topic provided the author with the impulse to write this book, which consists of 33 attempts to answer a series of questions: "What is silence? Where is it? Why is it more important now than ever?" Drawing from his personal experiences, as well as conversations with artists, poets, athletes, philosophers, and musicians, Kagge challenges readers to grapple with the concept, inside of which, he contends, "the world's secrets are hidden." Interspersed with the short chapters are images, including photographs taken by the author during his expeditions and works by artists including Ed Ruscha and Catherine Opie. Despite its philosophical nature, the book is aimed at a general readership, and, befitting the subject matter, the narrative has a meditative quality. Kagge explores his subject from many different angles—not simply as the absence of sound but as a matter of human perception, a force both external and internal. Though they contain no startling revelations, his reflections provide a thoughtful approach to a topic of import to many who live in "the age of noise."
An eloquent and persuasive argument for the significance of silence, in all of its forms, from an author who has explored the limits of the human experience. - Kirkus Reviews


Erling Kagge:

The power of silence in the smartphone age