Leon Forrest, The Bloodworth Orphans,

University Of Chicago Press, 2001.
Leon Forrest, acclaimed author of
Divine Days
, uses a remarkable verbal intensity to evoke human tragedy, injustice, and spirituality in his writing. As Toni Morrison has said, "All of Forrest's novels explore the complex legacy of Afro-Americans. Like an insistent tide this history . . . swells and recalls America's past. . . . Brooding, hilarious, acerbic and profoundly valued life has no more astute observer than Leon Forrest." All of that is on display here in a novel that give readers a breathtaking view of the human experience, filled with humor and pathos.
If you plow through (or skip over) Forrest's unreadably dense, ten-page ""List of Characters,"" you'll reach the slightly less convoluted now-and-flashback story of ""Mother-Witness"" Rachel Flowers, the children she bore, the children she adopted, and the orphans and bastards around them--all tracing back to the slaveowning Bloodworths and a network of sins. Unfortunately, the most sympathetic characters disappear early on: blind Rachel, who was exorcised--God said ""NO DEALS""--of her evil (two illegitimate, doomed sons by a Bloodworth scion) to become the envied, gospel-singing first lady of her church; Regal Pettibone, who drives a ""Lincoln chariot,"" sings gloriously with Rachel once a year, and sends his women ""first to ecstasy, then to chaos""; and Rachel's nurse, LaDonna Scales, ""foundling of the world."" After Rachel succumbs to cancer, LaDonna and Regal fall in love (haft-unaware of their incest) and, when LaDonna strays into the embrace of W. W. W. Ford (white slaver, drug pusher, dispenser of phony religion), the brother and sister die in inevitable violence. The rest of the book belongs to the intangible Ford, as his evil infects the innocent--chiefly Amos-Otis Thigpen (yet another sibling) and naive Nathaniel Witherspoon--and as he is talked about, endlessly, by the inmates of the music-rich asylum where unlucky Nathaniel lands. Forrest's prose is as thick as molasses and just as sticky--image after image that won't let go--and blends revival meeting rhythms (""Lord, Lord, LORD"") with a vocabulary attuned to the probing minds of the black achievers included in the immense cast. Sermons, exorcisms, two gargantuan deathbed speeches, and a symbolic tall tale of a ""serial hermaphrodite"" spill out in a Faulkneresque flood of bulging parentheses. It's worth hacking away at this jungle of words as long as Rachel and her closest kin are active, but when the circuitously connected episodes and hearsay take over, even the diligent reader will not find enough line-by-line rewards to redeem the page-by-page punishment. -
Kirkus Reviews
Leon Forrest, Divine Days: A Novel,
W W Norton, 1993.
Fabulous, wildly comic, and Ulysses-like, Divine Days explores the mythical world of Leon Forrest's literary kingdom, Forest County. It is a huge oratorio of the sacred and the profane, set in bars, churches, and barbershops over a crucial seven-day period in the life of would-be playwright Joubert Jones during February 1966. Divine Days creates a profound microcosm of African-American life. It is the most prodigious literary creation since Ellison's Invisible Man forty years ago.
Joubert Jones - playwright, journalist, bartender, lover - confronts and transcends the power of a fantastic group of bar denizens whose personalities run the gamut of classical myths, Shakespearean heros, Shakespearean villains, religious true-believers, and ghetto dwellers.
Joubert is evolving a memory from the yeasty material of his friend and mentor Sugar-Groove into a play. Sugar-Groove is a world traveler, a mythical lover, who has twenty nicknames connected with his prowess. He is trickster-as-angel.
Joubert's volatile and fragile girlfriend, Imani, is desperately searching for her abandoned siblings, a meaningful self-definition of her Blackness, and a place to settle her warring spirit. Joubert also encounters the powerful presence of his Aunt Eloise and the ever-haunting phantasmagoric W. A. D. Ford, the demonic trickster and manipulator of bodies and souls. Ford is the Mephistopheles of Forest County, and he comes to represent the forces of cosmic evil in the world.
The neighborhood of Joubert's imagination becomes a theater enraptured with the voices of the living and the dead, acted out in Aunt Eloise's Night Light Lounge. The critic John Cawelti has called this novel: "the Ulysses of the South Side." In the tradition of Joyce's Dedalus, Ellison's invisible narrator, Bellow's Augie March, and Heller's Yossarian, Joubert's voice emerges clearly upon Divine Days's ebullient stage.
"
Divine Days
is that rare thing in our self-conscious and ironic age―a full-out serious work of art."
-
Sven Birkerts
"Almost every page offers abundant evidence that Leon Forrest is a writer of virtuosity and power... A landmark in the artistic representation of social and historical reality, a rich and complex entertainment that deserves our praise, respect and gratitude."-
Arnold Rampersad
"Simply put, Leon Forrest's massive masterpiece
Divine Days
is the
War and Peace
of the African-American novel."-
Henry Louis Gates
ALL of the previous experiments and partial successes of Leon Forrest's output -- "There Is a Tree More Ancient Than Eden" (1973), "The Bloodworth Orphans" (1977) and "Two Wings to Veil My Face" (1983) -- now read as an overture to his new novel, "Divine Days," an adventurous masterwork that provides our literature with a signal moment. It takes place on the South Side of Chicago over seven days in late February 1966, as the ideas that led to the canonization of Malcolm X are beginning to spread.
Yet for all its freshly rendered black American texture, the novel is provincial neither in its scope nor in the technique of its narrative. At more than 1,100 pages, this epic detective story pulls in elements of the Gothic, the tall tale, the parable, the philosophical argument, the novel of ideas, the history lesson, the novel of manners and the sort of close observation Balzac, Mann and Hemingway would have admired. There are also copious references to black American writing, opera, boxing, popular songs, blues, movies and cartoons.
The technique of the novel is boldly musical. Mr. Forrest prefers to lay his symbols out clearly, so the reader consciously watches him do his stuff the way an audience listens to chorus after chorus of jazz inventions on a standard song's melody and chords. He develops his tale through literary "chorus structures" in which the "melody" might be metamorphosis and the "chords" motifs -- phrases, archetypes, colors, natural elements. With each successive chorus, the variations become more and more complex until they are either resolved or end abruptly, only to be picked up later. The orchestral control from the first chapter to the last is apt to make our most serious novelists both grateful and envious.
Joubert Jones is the narrator, a playwright just returned from two years of military service in Germany. Joubert intends to write a play about Sugar-Groove, a Mississippi half-caste and lover man whose mutating legend is a gift to the Chicago black people, ever willing to spin a tale about him or to listen when a fresh one arrives. Sugar-Groove has disappeared, and Joubert wants to find out what happened to him. The playwright has already attempted to bring the story of W. A. D. Ford, the cult messiah of a church called Divine Days, to the stage. Ford has also disappeared.
While Sugar-Groove represents the tragic optimism, wit, miscegenated complexity and profane sensuality of the blues spirit, Ford is a demonic, totalitarian force that rises from the pagan recesses of black American culture. Joubert's memories of Sugar-Groove and his discoveries about the man allow Mr. Forrest to examine the various ways our shallow, hand-me-down revisions of history and culture can tear us from the transcendent grandeur of our heritage, deny the endless miscegenations that complicate our national identity and set us up for so many sucker blows that we end up culturally punch-drunk.
Through the lascivious Ford, "Divine Days" looks without a blinking eye into mad orders and confidence men, like Father Divine, Daddy Grace, Jim Jones and the leaders of the Nation of Islam. The playwriting conceit allows the many literary allusions to work naturally, while Joubert's jobs -- as a reporter for his aunt Eloise's newspaper and as a bartender in her Night Light Lounge -- help supply the novel with its rich breadth of characters.
THE work's exceptional strength arrives through the virtuoso fusion of idiomatic detail and allusions to the worlds of literature, religion and folklore. "Divine Days" eloquently renders the lives and passions of Creoles, retired redcaps, race hustlers, intellectuals, prostitutes, waiters, politicians, dupes, preachers, the police, barbers, heterosexuals, homosexuals, public-school and college teachers, faith healers, gourmands, thugs, dancers, obsessive dog lovers, military men, drunks and the celibate. Mr. Forrest develops an intricate antiphony between things specific to the South Side of Chicago and universal themes like transcendence, the irresponsible uses of the charismatic, the heartbreak of the doomed romance, the riotous absurdity of human circumstances and the reincarnation of individuals and eras through the passing on of styles. In this context, Joubert's experiences and revelations are delivered with such artistic resonance that the struggle for the black American soul becomes a supple metaphor for the battle between the democratic impulse and the modulating varieties of religious, political, racial and gangster totalitarianism.
Like every very long novel, "Divine Days" contains passages that do not sustain force, that fall into excess, that blubber into sentimentality. But like a liberating hero who must rise over interior shortcomings, Leon Forrest never fails to regain his power and take on the pain necessary for a difficult victory. Given the disappointing nature of our times, his novel should capture the souls of all who love books and feel our national need for freedom from the rusty chains of an intellectual and esthetic slavery that maintains itself by adding link after link of cliches. -
Stanley Crouch http://www.nytimes.com/1993/07/25/books/the-soul-of-joubert-jones.html
With enormous energy and an uncanny range of oral styles--from high-flown preaching to down-and-dirty slang--this remarkable fourth novel by Forrest ( Two Wings to Veil My Face ) takes more than 1100 pages to recount one week in the life of Joubert Jones, an aspiring playwright who has just returned to his home on Chicago's South Side after two years in the Army. Much of Jones's time is spent with the ``zany denizens'' of his Aunt Eloise's Night Light Lounge--a spectrum of humanity that includes drunkards, mystics, policemen and other spinners of tall tales--which was once the location for ``Divine Days,'' the religious revival house of con man and preacher W.A.D. Ford. ``Hypersensitively attuned to the sound of voices, babblings, other-worldlysic and worldly tongues,'' Jones has written a play about Ford's ``mysterious ritual services'' and is now bent on chronicling the memory of his older friend Sugar-Groove, a traveling raconteur whose earthy adventures, told to a young Jones, masked a different kind of spirituality than that suggested by Ford. The novel is meant to be a ``long-tongue saga'' touching on every aspect of African American life in the mid-1960s. In presenting life's ``connective patterns'' primarily through speeches, Forrest's work is more reminiscent of Henry Miller's obsessive narratives and Toni Morrison's mythic languages than James Joyce's internal explorations. Yet what ultimately allows Forrest to sustain a reader's interest throughout is his determination not only to show a range of oral styles, but to allow each and every character to demonstrate a sophisticated ease with all of these styles, using African American language and subject matter ``to create a synthesis out of all nightmares that our experiences kept throwing up at us.'' This is dazzling, dizzying, demanding and highly recommended. - Publishers Weekly
"The book at hand . . . is the fourth and probably capstone novel by a Chicago writer of immense talent who has been officially recognized in various ways but remains almost unknown even in his native city," reviewer Joseph Coates wrote in the Tribune in 1992. "Writers such as Saul Bellow, Ralph Ellison and Toni Morrison have known about Leon Forrest for years, and one hopes `Divine Days' finally will establish him in the minds of the people he has been chronicling for almost a generation."
"Divine Days" follows a week in the life of one Joubert Jones, an aspiring playwright recently returned from a two-year stint in the Army. Jones hopes his journal-keeping will serve as inspiration for his writing, particularly a play he intends to write about the life of Sugar-Groove, the mythic soul of Forest (read Cook) County.
"Though the critic John Cawelti and Forrest himself call this novel the `Ulysses of Chicago's South Side,' the real model for `Divine Days' is `Finnegans Wake,' with its shifty cast of multi-masked selves, its intent to encapsulate the history of a people in the endless swirl of their personal and social identities and its playfully punful language, all organized around a death or deaths and at least one funeral," Coates wrote.
The Robber Bride, by Margaret Atwood (Bantam, $6.50).
"`The Robber Bride,' Atwood's latest novel, begins with her distinctive and well-honed social wit, as three middle-age women who like to `feel younger, and more daring, than they are' share a lunch table at the Toxique, a Toronto restaurant striving mightily for an air of decadence," reviewer Philip Graham wrote in the Tribune in 1993.
Before long, Zenia, "aphid of the soul," the nemesis they thought they had seen the last of when they attended her supposed funeral five years ago, takes a seat at a nearby table.
The three friends-Tony, Charis and Roz-leave too shocked to confront her. Once alone, each begins to relive the havoc Zenia caused in their lives-lies, plagiarism, blackmail, embezzlement, extortion and home-wrecking. Soon, one after another, the three friends seek their revenge.
"This novel, with all its psychological acuity, its masterly navigation of the shoals of memory, is also a story as elemental as one of those `authentic fairy tales in the gnarly-tree editions,' " Graham wrote. With `The Robber Bride,' her eighth novel, Margaret Atwood continues her long-running roll, offering us the good fortune of yet another disturbing and brilliantly conceived work of ficton." -
articles.chicagotribune.com/1995-03-05/entertainment/9503050054_1_robber-bride-margaret-atwood-novel
Leon Forrest, Meteor in the Madhouse,
Triquarterly, 2011.
excerpt
Forrest's long-awaited last work follows the last days of journalist Joubert Jones and his long relationship with his friend and mentor, the idealistic and doomed poet Leonard Foster.
"This rich and wonderful work is Forrest's Dubliners. . . . Bringing this novel together is one of the great comic gifts in twentieth-century literature . . . but taken to many places even great Joyce could not go. Like Joyce, Forrest was well aware that the belly laugh and the most bitter moment of tragedy are forever twinned." --Stanley Crouch
"I was, to put it mildly, deeply moved that in his last days, terribly weakened, his words rang true and so strong." --Studs Terkel
"He spoke and wrote out of the conflicted heart of Chicago but found a transcendent emotional jurisprudence in the heart and soul of the blues/jazz idiom that was his birthright from the bars and juke joints that shaped his perspective on the human condition." --James Alan McPherson
Like 1999's publication of Juneteenth, this novel is a literary event: seminal African-America writer Leon Forrest (1937-1997) is not as well-known as Ralph Ellison, but during his lifetime he elicited high praise from such figures as Stanley Crouch and Toni Morrison. Forrest's masterwork, Divine Days, introduced the successful dramatist and professor Joubert Jones, who here narrates the five interconnected novellas riffs on his memories during the day of his death in November 1992. The characters all have roots in the south, in Forrest County, Miss., but have long gone north, to Forest County, Ill. (a stand-in for Chicago). The stories are held together thematically by Joubert's memory of Novembers past, such as one in 1972 when Marvella Gooseberry, a neighbor of his adoptive grandmother, Gram Gussie Jones, "flipped her wig" and threatened to shoot herself and others with a gun; the November he visited his friend and rival, Leonard Foster, in the state mental hospital; and the November day when his great-aunt Lucasta Jones was abandoned by her lover, Tucson. In the final novella, Joubert's fatal visit to Williemain's Barbershop, where he is killed in a drive-by shooting, is recounted. On the scaffolding of these memories and events, Forrest hangs a multitude of anecdotes and moments of almost musical verbal invention. The inspired comic moments include an extended piece recounting Joubert's escape from a cult group led by Foster in the Holiday Inn, a cab ride with a white amateur boxer and her black girlfriend, and the strange dental practices of his Gram Gussie Jones. While Forrest's talent is undeniable, readers may find themselves out of the loop, plot-wise; his editors have included a helpful appendix that summarizes the narrative. - Publishers Weekly
A modest posthumous addition to the legacy of a significant African-American writer: five novellas connected by the first-person narration of Joubert Antoine Jones, protagonist of Forrest's earlier novel Divine Days (1992).
At the close of Divine Days, Joubert fled his family for the University of Chicago and a career as a writer and journalist. Now we encounter him in 1992, an established professor and playwright troubled by memories of his friend and adoptive cousin, Leonard Foster. Back in 1972, Joubert recalls in "Live! At Fountain's House of the Dead," he attempted to rescue Leonard, an unsuccessful poet and writer descended into madness, with shared childhood recollections. Forrest (1937–97) characteristically mingles life and death here in Joubert's anecdote about the first wake he attended as a boy, in a funeral parlor by day that served as brothel by night. But Leonard is unresponsive to Joubert and ultimately dies forgotten in an asylum. The woman who raised both men gets her own novella, "Lucasta Jones in Solitude: Lives Left in Her Wake," which displays both her languid, aesthetic exoticism and her desperate inability to hold love close. By contrast, Lucasta's sister, Gussie, is a staid, benevolent woman of simple faith and boundless hope. After a plentitude of rich recollections and plump, warm reverie, Joubert is mortally wounded in a gang-related shooting; his lingering death scene suffers somewhat from a purple tinge. Nonetheless, these short fictions fill in gaps and explore secondary characters important to a comprehensive understanding of Forrest's art. A foreword by Forrest's widow and critical apparatus by friends John G. Cawelti and Merle Drown don't especially enhance our understanding of the work at hand, but they're harmless expressions of enthusiastic advocacy.
Though occasionally clumsy in style and execution, this impressionistic collage will be cherished by admirers of Forrest's lifelong effort to engage in fiction the African-American legacy of personal reinvention and loss. - Kirkus Reviews
The world lost a radiant spirit and a brilliantly ebullient artist when Leon Forrest died in 1997, so it's a great boon to be granted this masterwork, the last book he brought to completion. A suite of five linked novellas set in the author's lively fictional universe, Forest County, a looking-glass image of Chicago's South Side, it has as its intrepid hero Joubert Antoine Jones, the protagonist of Forrest's magnificent Divine Days (1992). Now a successful playwright, Jones remains enthralled by the misadventures of his loved ones, especially his great-aunt Lucasta, the crazy poet Leonard Foster, and friends Step Bottomly and Hopkins Golightly. Jones recounts numerous wild stories of love and betrayal, art and politics, fantasy and eccentricity that are by turns hilarious and tragic, earthy and mystical, odd and heroic, all told in a cascade of gorgeously musical, life-embracing, soul-raising language. Marianne Forrest provides a key to her late husband's storytelling magic in her introduction: "I don't know of anyone who enjoyed the company of others more than Leon did." Indeed, it is his shrewd delight in the marvels and peculiarities of his fellow human beings that makes Forrest such an entrancing and compassionate writer. - Donna Seaman
By the time Leon Forrest died, in 1997, the 20th century was ending and all the experiments begun by Joyce, Woolf, Proust, Faulkner and the rest had become the international heritage of the fiction writer. When Forrest's first novel was published in 1973, the breaking down of old forms was not so much the issue as was accepting or rejecting or adapting the innovations that gave a writer more choices of how to get from one place to another.
Those new choices were perfect for Forrest, who had an epic sense of American life as it was lived on the South Side of Chicago. This part of the Windy City, which he called Forest County, was his Dublin and his Paris and his Yoknapatawpha County. Central to his writing was also the large figure of Ralph Ellison, in whose work he found the grandest combination of universal themes given Negro American particulars. With Ellison's example under his belt, Forrest lit out to stake his own claims.
Forrest's first three novels were essentially preludes to ''Divine Days,'' which appeared in 1992 and is his most important book. At that point, Forrest had out-Ellisoned the master, marvelously extending the work that Ellison had begun 40 years earlier in ''Invisible Man.'' Though the eloquence and intelligence of ''Divine Days'' did not go beyond the finest sections of Ellison's classic -- whose has since? -- Forrest achieved far greater comprehension through the sweep of his themes and the range of his people.
Much more was expected of Forrest, but he finished only ''Meteor in the Madhouse'' before succumbing to cancer. This last book proves, in its gallantry and its compassion, that he went nose to nose with eternity, showing no mercy to self-pity. The excessive length of the poorly edited ''Divine Days'' is not a problem here. The problem is editing that results in an occasional impression of clumsiness and illiteracy, which is, however, overridden by the continuing elegance of the singing and step-up-on-it swinging prose. This rich and wonderful work is Forrest's ''Dubliners,'' because it gives us the moral history of a community, though the form of interrelated novellas is technically more akin to Faulkner's ''Go Down, Moses.'' The tales are held together by the narrator, a playwright named Joubert Jones, who was also the guide and central intelligence in ''Divine Days.'' The narrative leisurely achieves a straight line of focus through a mist of contrapuntal images and references that initially work as much through sound as literal sense.
Forrest did not see those addicted to dangerous sensations as sinners so much as tragic figures limited or torn asunder by their appetites. The heavy drinker, the drug addict, the madly promiscuous homosexual, the ''wild'' woman and all the others who lived on lines they drew too close to derangement or the destruction of their health were equal to anyone else in their humanity, none automatically above or below. In that sense, the God of this work is pagan in a Christian suit of many colors. As Joubert learns, the truth can come from anywhere; the voice of God is not limited to those who think themselves most holy. (This is surely true for Joubert, who loves a funny lie as much some people love the Lord.)
This openness to various perspectives is illustrated by references to the Greek myths, biblical tales and to all kinds of writing, from blues lyrics to Shakespeare. Inside this ''Madhouse,'' Forrest delivers one fresh character after another to our national literature. He seeks to bring the concerns of the flesh and the spirit together, to join the present with the endless past. To achieve his ambitions, Forrest fused a number of different kinds of rhetoric. He built upon the sermonizing power of the black church, the stark poetry of the blues and the epic diction and rhythms that floated up into Chicago from the South, making his part of town rhetorically urban and rural at the same time. Forrest wanted to tell the stories of trouble as they evolved from the injustice of segregation to the oppression of the soul that arrived in the guise of black nationalism. (Guises, by the way, are central to his tale -- from dark glasses to cross-dressing, and in the many changes of costume worn by one black man who starts out as a circus performer entertaining white people from inside a dunking cage, moves into politics, sells homemade African junk jewelry and winds up singing the blues to an almost all-white audience.)
The moral history is neither provincial nor overshadowed by the complexities of human personality. It is founded in what people do for -- or to -- one another. Unsentimentally, Forrest shows what racism did to some of his characters, how personal problems that transcended race deformed or wounded them, how some were driven incurably mad by their experiences as civil rights workers in the South, how the drug epidemic has worked its havoc, and how the violence that once largely came from the white world has been overtaken by criminal violence from within the black community itself. In the last novella, Forrest makes his point about violence by alluding to the O. J. Simpson case: his narrator is mortally wounded by a drive-by shooter emerging from a white Bronco.
Bringing this novel together is one of the great comic gifts in 20th-century literature, derived, perhaps, from the parody-thick Cyclops chapter in ''Ulysses,'' but taken to many places even great Joyce could not go. Like Joyce, Forrest was well aware that the belly laugh and the most bitter moment of tragedy are forever twinned. This South Side novelist was a battler to the very end, and he gave the cannibal of time the kind of high-class bruises that will forever throb and shine. -
Stanley Crouch
http://www.nytimes.com/2001/09/09/books/a-moral-history-of-chicago.html
When Ahab went down on his "all-destroying but unconquering whale," an ironically self-consuming allegory was born -- for didn't Melville's own career as a writer go down, in the publishing world, after Moby Dick sank without a bubble? There's a daemonic strain in American literature, a fate doled out to unzeitgemässige talents, to use Nietzsche's untranslatable phrase: un-hip hipness, uncontemporary contemporaries. Melville and William Gaddis are two well-known examples. Less known is the late Leon Forrest.
Leon Forrest's
Divine Days
is perhaps the black planet George Clinton was forecasting, but its collision with Earth has yet to be recorded on the seismographs. Something in the book requires a slo-mo reader response. This is a serious joke it will take the next couple of generations to get. The novel is set over the course of a week in Chicago at that very rich historic moment, in 1966, when the Civil Rights movement was shifting into the Black Power movement. King was losing his iconic authority to the martyred Malcolm X, and Joubert Jones -- the narrator of
Divine Days
-- was finally out of the army, into which he had been drafted. For 1,135 pages, Joubert weaves into and out of barbershops, newspaper offices, his apartment house (stocked with Afro-centric eccentrics, students, and the autodidactic intellectuals he labels "Deep Brown Study Eggheads") listening to stories, political arguments and gossip, and playing the dozens. To shorthand a complex story, Joubert is a black Stephen Daedelus, and Chicago is his Dublin. For his pains, Forrest was greeted with some praise from the usual suspects -- the honorable Stanley Crouch, the ever-commending Henry Louis Gates -- and general oblivion. Forrest's posthumous
Meteor in the Madhouse
is a continuation of his hocused opus, but comes in at a much more manageable 254 pages. The book puts
finis
to Joubert's story. He is now a successful playwright and a tenured professor (just as Forrest was, at Northwestern). Coming home from a creative writing conference on a bus, Jones phases into memories that run through the four novellas in the book. In particular, he remembers the day in November, 1972, when he appeared on TV, having talked his friend Marvella, who is going beserk with a gun, into surrendering to the police. That same day, Joubert was persuaded to visit his shadow side and cousin, Leonard Foster, who is temporarily residing in an Illinois nuthouse, by Joubert's girlfriend, Shirley Polyneices. Joubert has a galling effect upon Foster -- where Joubert is happy to spread ironizing jive over a situation, Foster is a man who shrivels up without some Absolut at his back. We then switch to Joubert's days at the Avon, the hotel near the University of Chicago where Joubert moved at the end of
Divine Days
. The long section, "All Floundering Oratorio of Souls," tells the story of one of these eggheads, Shep Bottomly, a black Marxist of rigid character and many proofs, clipped out of many newspapers, of the coming collapse of the capitalist world order. His world-view of universal exploitation stops at his own door, however -- he is seemingly unaware that he is wringing surplus value out of his girlfriends, upon whom he unloads his harangues and his dirty laundry. To appreciate this book, it helps if you know something about Forrest's life. Forrest was a Chicagoan, a onetime editor of
Muhammed Speaks.
Forrest was not himself a Moslim or Muslim -- but he was privileged to witness one of those magical moments when deep structure, that fabulous theoretical construct, emerges like the monster from the Black Lagoon into historic actuality. That's how he viewed the dialectical push 'n' pull between Elijah Mohammed and his spiritual son and final foe, Malcolm X. For Forrest, Elijah Mohammed was the superior player, his life a repository of all the moves, from Uncle Remus' tar baby to Motown con, and the allegorical inversion of America's racial hierarchy which he invented and mythologized (the Black Muslim story is that the White Man was invented in the devil's laboratory in a sort of parody and assimilation of a grade-B sci-fi flick). The tug between ruse and resistance, in
Meteor in the Madhouse
, is on one level the gripe between Joubert Jones and Leon Foster. But Forrest's textual playhouse shouldn't be tied to the "one-trope-fits-all" school of interpretation. He loves to make narrative move in any direction -- side to side, backward, forward, in jumps and lumps, by the vagaries of associations discovered in the language, the way word and fact will crash, with a consequent mutual leaving of scars. One of the characters in
Meteor
writes a book about Joubert's tragic aunt, Lucasta Jones, in which with pen and ink sketches, "he attempted to arrest the motions of Lucasta Jones, from the flight of dance to the printed page." Forrest's prose aspires to the condition of dance, and often achieves that magical thing, the tight balance between inspiration and misstep. -
Roger Gathman
https://www.austinchronicle.com/books/2001-04-20/81470/
Publication of an unfinished book by a dead author poses certain problems for readers and reviewers. The book does not and cannot represent the author's final vision or bear the stamp of her/his final touch, that crafted sheen. The pages bear the mark of some other hand that worked the text into a publishable form.
Such a controversial situation surrounded the publication of Ralph Ellison's novel "Jubilee" two years ago. Following the publication of his celebrated first novel, "Invisible Man," Ellison worked on his next novel for more than 40 years, a book that was nowhere close to completion when he died in 1992. Ellison's literary executor, John Callahan, pulled a single, unified narrative from the massive text, gave this narrative a title, and called it a novel. No, it was not the novel Ellison would have published, but it was a good novel, a brilliant one, even.
Callahan's "Jubilee" reminded me less of Ellison's work than it did of the work of Leon Forrest, a black Chicago writer for whose first novel, "There Is a Tree More Ancient Than Eden" (1973), Ellison had written the introduction. Where "Invisible Man" was an episodic, coming-of-age tale, "Jubilee" was a tightly structured deathbed sermon. In the 1973 introduction, Ellison recognized Forrest as a fresh voice on the American literary scene. His was a fiction that explored modernist themes of time, myth and consciousness through the elastic possibilities of language as represented in African-American folk idiom, namely the black sermon. Forrest preaches, fast-flowing sheets of words, what a John Coltrane liturgy might sound and read like, a dense rambling of psychedelic and soulful talk that might flow from the mouth of a South Side preacher on LSD.
Though Forrest had the backing of such literary luminaries as Ellison, fellow Chicagoan Saul Bellow and Toni Morrison, who as a senior editor at Random House had discovered Forrest, he never gained a national audience. The three novels he published under Morrison sold poorly in hardcover, only to appear in small-press paperback editions, which did little to make his work known to readers. No major publishing house expressed interest in Forrest's fourth novel, the massive (1,100 pages) "Divine Days." A small Chicago press brought the novel out in hardcover and went bankrupt in the process. When Forrest died in 1997, his work, including the collection of reviews and short essays "The Furious Voice for Freedom," was known to few beyond Chicago literary circles and a handful of academics interested in experimental black fiction.
Perhaps the posthumous publication of Forrest's novel "Meteor in the Madhouse" will revive interest in his work and gain him the critical attention that eluded him in life. This novel made it to book form through the efforts of Forrest's close friends Merle Drown and John Cawelti, who edited the manuscript with the assistance of Forrest's widow, Marianne. (A serious Forrest scholar, Cawelti also edited the first book-length critical study of Forrest's fiction.) In the book's introduction, Cawelti eases any fears of non-authorial intrusion and tampering:
"The work here presented is in every respect that of Leon Forrest. As editors we have corrected obvious mistakes. . . . [W]e have added nothing of significance and in some cases have left minor breaks and inconsistencies rather than trying to invent something to fill them. . . . The design and virtually all of the words are those of Leon himself."
Like Forrest's other novels, "Meteor in the Madhouse" has a fictive geography -- Forest County, a Midwestern stand-in for Chicago and environs, a fantastic locale peopled with equally fantastic characters. And like Forrest's other work, this book is loosely structured, involving five interrelated novellas, many of which have chapters or narratives that seem incidental to the central plot.
The book's focus is Joubert Jones, a successful journalist and playwright who is summoned to aid his friend, Leonard Foster, a failed poet confined to a mental institution. Through extensive investigation, Jones hopes to write an article that will illuminate some of the dark mysteries of Foster's past and also show how he might be made mentally whole. Notions of failure and salvation serve as the novel's thematic frame, which Forrest repeats in the parallel narratives. Lucasta Jones, Joubert's great aunt and Leonard's surrogate mother, suffers permanent withering of her artistic talent because she lives in a society that will not let her fully express that talent. She later loses all possibility of a productive life after she locks into permanent grief over her dead lover, Tucson. And there is McGovern McNabb, a bar hound whose soul is entombed in a 400-pound body, the heavy sign of his excessive indulgence in food and drink and his apathetic acceptance of fate.
Leon Forrest, acclaimed author of Divine Days, uses a remarkable verbal intensity to evoke human tragedy, injustice, and spirituality in his writing. As Toni Morrison has said, "All of Forrest's novels explore the complex legacy of Afro-Americans. Like an insistent tide this history . . . swells and recalls America's past. . . . Brooding, hilarious, acerbic and profoundly valued life has no more astute observer than Leon Forrest." All of that is on display here in two novels that give readers a breathtaking view of the human experience, filled with humor and pathos.
Leon Forrest, Two Wings to Veil My Face,
Random House, 1984.
A ninety-one-year-old Black woman tells her story of passage from slavery to freedom to her twenty-one-year-old grandson
Leon Forrest, acclaimed author of Divine Days, uses a remarkable verbal intensity to evoke human tragedy, injustice, and spirituality in his writing. As Toni Morrison has said, "All of Forrest's novels explore the complex legacy of Afro-Americans. Like an insistent tide this history . . . swells and recalls America's past. . . . Brooding, hilarious, acerbic and profoundly valued life has no more astute observer than Leon Forrest." All of that is on display here in two novels that give readers a breathtaking view of the human experience, filled with humor and pathos.
There is a Tree More Ancient Than Eden (1973) was a dense, blues-style mÉlange of childhood memories, all belonging to young writer Nathaniel Witherspoon--Forrest's fictional alter-ego. In The Bloodworth Orphans (1977), Nathaniel was a minor character within a half-involving swirl of melodrama, sermonizing, testifying, black family-history, and Joycean/Faulkneresque prose. And now Nathaniel is center-stage again--though this rich, unshapely family-history novel focuses most on his grandmother Sweetie Reed. Circa 1958 the 91-year-old Sweetie is at last telling the 21-year-old Nathaniel (a rather pompous college dropout) the family secrets. Primarily, and most compellingly, Sweetie tells of her confrontation with her hated father I. V. (an Uncle Tom-ish former slave): on his deathbed he told her about the plantation-night of her mother's conception--when ""blackbirding"" slaveowner Rollins raped African beauty Jubell but was nearly killed by doomed macho-slave Reece Shank Haywood. (The Iago-like I.V., responsible for this violent horror, saved his master's life--and later married Angelina, offspring of the Jubell/Rollins union.) Furthermore, Sweetie recalls--in feverish bits and pieces--her abduction by Klan-ish ""patrollers"" as a child (Angelina was killed); her rejection, upon return, by I.V.; her subsequent arranged-marriage to old, up-from-slavery Judge Jericho Witherspoon (who really lusted after Angelina). And meanwhile, in about half the novel's chapters, Nathaniel himself recalls grandfather Witherspoon's 1944 funeral-day--when tiny religious-fanatic Sweetie, then 77 and estranged from 117-year-old Witherspoon for 40 years, made shocking appearances at the funeral home and the church, delivering stream-of-consciousness tirades about the much-respected Judge. (""Nothing in their ceremonial history, nor memory, had prepared them for this outrage and Sweetie Reed's revelations of her dream within a dream of intimacy. . . ."") These longwinded, thickly metaphorical speeches--and the story-within-a-story framework throughout--makes for often-static fiction, especially in the novel's weaker second half. And a final revelation about the Sweetie/Witherspoon marriage is melodramatically predictable--without really illuminating the recurrent themes of spirituality-vs.-carnality and a stormy, conflicted facial/psychological heritage. Still, the dramatization of plantation tensions--with ambivalent slave responses to supposed ""freedom""--is often powerful in the 19th-century flashbacks; the funeral-day confrontation, if belabored, is resonant--with comic horror as well as historical guilts. And though Forrest's elaborate prose is sometimes more self-conscious than eloquent, it is more consistently, genuinely poetic than in his previous novels--mixing the colloquial and the literary in controlled, rhythmic waves of imagery. -
Kirkus Reviews
''TWO WINGS TO VEIL MY FACE'' is a third novel probing black history by a writer whom Saul Bellow and Ralph Ellison have praised. Its narrator is Nathaniel Turner Witherspoon, a young college dropout who as a boy exacts a promise from Sweetie Reed, the woman he believes to be his grandmother, that she will one day enlighten him about his family's buried past. The story is largely dependent on the dictation Nat takes from Sweetie Reed herself when in 1958, at the age of 91, she commences talking for the record.


A ''cedar-colored, tiny, impish,'' morally intense survivor who began life in slave quarters, Sweetie Reed has given her middle and late years to mission work (cooking for ''the shut-ins and the drifters, the wind- blasted winos and the lost-found'' of an unnamed Northern metropolis). Her rumination shuttles between two worlds of disaster - that of newly freed slaves from the 1860's onward and that of urban blacks making their way in the 1950's. Stolen from home at 4 by ''patrollers'' who hoped to enslave her illegally, Sweetie Reed helplessly watches - three years later - the slaying of her mother. Her father, who refuses to be freed, loathes her ''like the husband . . . loathes the babe whose life-bearing kills the woman of his bed,'' and sells her into marriage with a stranger. And the stranger, Jericho Witherspoon, becomes, in the process of achieving fame as a lawyer-jurist-defender of his race, a hypocrite enslaved by self-love. The chief framing event of the book is the jurist's funeral, which Sweetie Reed transforms into a wild and extended family conflict.

Critics of Leon Forrest's first two books - ''There Is a Tree More Ancient Than Eden'' (1973) and ''The Bloodworth Orphans'' (1977) - complained about overwriting, and examples of the fustian abound in this new work. Sample sentence: ''Her non-words of music and Jericho Witherspoon's invisible ones appeared to exist in spirits assigned to a distant drumbeat in a chariot, beyond the reaches and hearing of the mourners (weaving in and out of each other's arms), within the secret sleeves of marriage.''

There are other problems as well. ''Two Wings to Veil My Face'' is poorly structured. Its moments of narrative excitement tend to be distanced as remote memories, overlaid with rationalization and expostulation that deprive them of immediacy. And the materials of slave narrative that Sweetie Reed passes along from her contemporaries - bloodhounds, whip-cracking masters, raped and ravaged mothers and grandmothers - are hardly new to letters. The scribe himself, young Nat Witherspoon, hints that he would appreciate new matter; his mind turns regularly, during breaks in the narration, to his sex life and his weakness for Remy Martin on the rocks.

Yet the book's defects somehow fail to sink it. The reason lies in the quality and complication of the feelings breathing in Sweetie Reed as she labors to teach young black generations the uses of the souls of black folk. For this heroine the black experience is a theater of moral warfare, a struggle between an energizing ideal of human solidarity, rooted both in experience and in faith, and enervating forces of vanity and ''enchantment with aggravation.'' Prevailing in the struggle requires a campaign of '' remembering and troubling and rekindling. '' And many enterprises that look like plausible parts of such a campaign are only distractions.

Charity and lovingkindness, for instance - these are human obligations, to be sure, polestars of dailiness for Sweetie Reed - but they have little awakening power. Indeed, they are closer to narcotics. Secular exhortation stressing the lift-yourself-by-the-bootstraps motif - Jericho Witherspoon was keen on this - is also a species of bad news; it inspires self-absorption. The same goes, predictably, for fascination with the success culture. It amounts to a squandering of the moral capital amassed by the agony of older generations. A fine sermon on this theme is delivered by a minister named Pompey Browne, to which Sweetie Reed forces young Witherspoon to listen: ''You're out there celebrating that (Cadillac) chrome like you anointing, buffing and accelerating the Word into chrome - making it whiter and lighter than snow, with your steaming wet-wash rags as prayer cloths worshiping up your lily-white mule machines, which are stubborn as you are. . . . You've strapped down the radiance of your ancestral memory like those despair-filled slaves who delivered up the word on the runaways' route to the slave catchers in the days of our previous condition.''

Betraying the black past is, in sum, extremely easy. But the unremittingness of Sweetie Reed's effort to avoid this treachery, her determination to distinguish false blackness from true, to rescue pointed remembrance from reckless waste of the knowledge that was born in tragedy, these themselves become energizing in time. The woman positively wills others into significance. Seen through her outraged eyes, Jericho Witherspoon, upwardly-mobile womanizer prepared to sacrifice fidelity to family for the glamour of adulation as moral exemplar, emerges as an original. Nat, the college dropout - soft, oblivious, bewildered by the moral intensity of his elder - carries clear meaning.

The insistence, everywhere, that past suffering has to have uses, that its voice must be heard (hearing and loss of hearing become shaping metaphors before this book is over) rarely seems wishful. And if Sweetie Reed's indictment of forgetfulness is never entirely coherent, her frustration with progress as commonly defined, and her disbelief in the rectification of injustice as a holy cause, never seem perverse. We know that taking this survivor seriously would mean - for Nat as for others - a total change of life, a movement sharply away from self-indulgence and self-pity. And we know, too, that those who, in the name of political realism, would dismiss Sweetie Reed as mad or disruptive are lost in the same moral confusion that engulfs a good portion of the white middle class.

''Slavery and oppression,'' Albert Murray wrote in ''The Omni-Americans'' (1969) - a recently reissued social critique - ''may well have made black people more human and more American'' while they ''made white people less human and less American.'' Leon Forrest offers no view on that. But by taking us to the center of a heroic nonagenarian's passionate misgivings, he does show us a richer humanity than turns up in protest literature or in Tory rationalizations of things as they (necessarily but regrettably) are. At its best, in the chapters addressing race pride, race bitterness, race trivialization, ''Two Wings to Veil My Face'' is a book about which it's possible to think. - Benjamin DeMott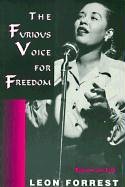 Leon Forrest, The Furious Voice For Freedom: Essays,

Asphodel Press, 2010.
Essays on Life. Forrest's writing is evocative, vivid, even poetic. - Library Journal
Le
on Forrest, 60, a Novelist Who Explored Black History