R. Zamora Linmark - Vignettes on young urban gay life that read like a poetry slam
R. Zamora Linmark, Rolling the R's, Kaya Press, 1997.
Author R. Zamora Linmark discusses the book's impact, 20 years after it first came out.
Illuminated by pop fantasies, Donna Summer disco tracks, and teen passion, the fiercely earnest characters in
Rolling the R's
come to life against a background of burning dreams and neglect in a small 1970s Hawaiian community. In this daring first novel, tour-de-force experiments in narrative structure, pidgin, and perspective roll every "are", throwing new light on gay identity and the trauma of assimilation.
Rolling the R's
goes beyond "coming of age" and "coming out" to address the realities of cultural confusion, prejudice, and spiraling levels of desire in humorous yet haunting portrayals that are, as Matthew Stadler writes, "stylish, shameless, and beautiful."
"[A] style that combines the comic pitch of a drag queen with crazed, daredevil experimental techniques unseen since the '60s heyday of Terry Southern and Hunter Thompson—all in a dense and startlingly beautiful pidgin dialect. Linmark nails the excitement and terror of being young with a rare and moving accuracy."—
Dennis Cooper
"
Rolling the R's
is a downright funky, hothouse treat."—
Jessica Hagedorn
"Linmark has done more than simply use the argot of equatorial poverty as a sexy, colorful idiom. In its structure, tone, and depths,
Rolling the R's
is true to the furious and witty rhythms of a vernacular culture of resistance."—
Village Voice Literary Supplement
"R. Zamora Linmark serves up an eccentric and enchanting blend of disco memories,
Tiger Beat
crushes, and pidgin English in
Rolling the R's.
"—
Out Magazine
"The most consistent intelligent wide-ranging committed press I know – Kaya is an example of how to turn 'small' books into literary arrows that shoot straight and true into the heart of our culture and (of course) ourselves."
— Junot Díaz
"Miles away from singular narrators, linear tales, and middle-class white characters, an ocean away from the Continental United States, Linmark's text explodes the formal and thematic expectations of young adult literature, pushing the boundaries of the genre with a dizzying array of stylistic choices."
—
Roopika Risam
This is the second time I've read this book, and I've come out of it with significantly different conclusions. Last summer, I read it for a class and in our discussion many of my classmates talked about it as a sex-positive book -- one that not only portrays sex in a positive light, but specifically child sexuality. With that in mind, I was a bit surprised to find that while I had tended toward agreement with my classmates less than a year ago, upon revisiting the novel I realized I actually thought it was not something that could be considered "sex-positive." Yes, many of the characters have sexual encounters in the novel. Yes, most of those who do seem happy about it. But no, I don't think Linmark is asking his reader to be happy about it. Katherine Katrina-Trina Cruz, a fifth-grader like the rest of the main characters, has a boyfriend who's a high school senior (star of the football team, etc.) and who she has been sexually active with for a while now. But the last chapter, "F for Book Report," leaves the reader with a sad look at Trina's relationship. While she claims to be happy and says that she feels sorry for a character in the book she read who remains a virgin, Linmark's narration invites us to feel sad for Trina instead. Every time she praises her "babe" in this chapter, it's clear that she believes what she says, but that what she says is not the truth. For instance, she says that "Erwin not dicking around when he say he love me [...]. And he no like met get pregnant, too. So everytime we go all the way, he always bring his box of rubbers cuz he no like me get pregnant too young too soon. I love him so much" (148). While Trina seems to think that Erwin's words are sincere and his actions gallant, they hardly seem so to the reader. Her insistence that he's not "dicking around" when he claims to love her highlights its false ring. Also, the way she proudly explains that he uses condoms as a consideration for her falls short of making the reader sympathetic to Erwin. Instead, the reader is able to see what Trina is not: that Erwin is using her, that he doesn't love her, and that he most likely cares about whether or not she gets pregnant because of how that would affect him and his football playing (not because of how young she is). Similarly, Edgar is extremely proud about his sexuality, and flaunts it for all to see. This is definitely something I would see as a positive portrayal in this book -- homosexuality is not denigrated here, and in that sense I'd say you could argue the book is sex-positive...except that it's not
sex
positive. Sure, Edgar's having a sexual relationship with Mr. Campos, the school janitor, and he lets Vicente witness this relationship. However, it's a "secret." The only reason he lets Vicente watch is because he's made Vicente his special project: he recognizes some of Vicente's desires and thinks that he can help Vicente by forcing him to come out of the closet. But when Vicente reveals the secret of Edgar and Mr. Campos to the rest of their friends, Edgar denies it, saying "I would never give my youth up that fast. I not that stupid. 'Sides, he stay married already. Vicente just jealous cuz I can get what I want and he no can" (135). The fact that he denies it (and then gets angry enough to call Vicente a faggot) indicates that he isn't proud of his relationship with Mr. Campos. Instead, he tries to hide it by giving reasons that can be interpreted as the very reasons he's not willing to admit to the relationship: he's given up something he can't get back, it isn't a smart thing to do, the man is old enough to be his father, and he can't get what he really wants (Scott Baio, or a young and attractive lover). That Edgar, who is usually so flagrantly proud of his accomplishments (everything from the Christmas presents he gives to the music he records off the radio) is
not
proud of what he does with Mr. Campos in the janitor's closet after school, and the reader can't really feel happy for him even when he purports to be happy himself. I will say this, though: Linmark's novel may not ask us to be happy about the imbalanced relationships these kids are engaging in, but he does ask us to be happy about their sexuality itself. Edgar has found happiness in being who he is -- and doing so in the open, for all to see. Trina has also found happiness in her attractiveness, unlike her teacher (who is her foil in many ways). Orlando Domingo, the school's high achiever, finds happiness in dressing up like Farrah Fawcett (in "Kalihi in Farrah," 22-25). Each of these kids has a sexuality, and when they embrace it the results are viewed in a positive light. When others take advantage of that sexuality, the results are viewed in a negative light. The most explicit example of this is Vicente and his encounter with Roberto Freitas in "Mama's Boy" (138-139). Vicente, who hasn't yet come to terms with his sexuality, has a sexual encounter forced on him and his experience is wholly tragic. Early in the novel, the chapter "Rated-L" (16-19) makes a significant point about truth and lies that runs throughout the entire novel: when characters tell the truth and follow their hearts, they are rewarded with happiness; when characters lie and deny their hearts, they are punished with misery. -
Anne Jansen
http://magnificentdistraction.blogspot.hr/2010/02/rolling-rs-r-zamora-linmark.html
R. Zamora Linmark's lush, popular culture-drenched first novel, looks into the lives of some precocious Filipino fifth-graders in the Kalihi section of Honolulu. It's the '70s, and Katherine, Katrina-Trina Cruz, Edgar Ramirez, and Florante Sanchez form the triple FC's, the Farrah Fawcett Fan club. They role play Charlie's Angels, trade memorabilia, and write fan letters to ABC. They also write to Casey Kasem and Scott Baio and perform "Bee-Gees, Live in Kalihi." Edgar, who is vociferously out of the closet, and Florante, who is a poet, contend with the jocks, while Katrina battles a teacher whose husband is sleeping with her mother. Edgar has sex with the janitor. Just a bunch of regular kids.
Linmark is as disobedient as his characters. Rolling the R's doesn't have a conventional structure. Linmark won't cram experience into any familiar fictional box. The novel is made up of book reports, short first and third person narratives, teacher evaluations, letters, prayers, and poems. Some of the poems are written by Florante and some are unattributed. We aren't always sure who is speaking or whether it matters. The voice structure is fluid and continually surprising, making the novel that rare thing: an experimental page turner. Language is more central to Rolling the R's than any narrative action. Or language is the action. The kids in Kalihi speak Pidgin-English. They aren't supposed to. Mrs. Takemoto, their teacher, is continually trying to make them speak conventional English. But in Rolling the R's, gender non-conformity and linguistic rebellion are inextricable. These kids use language in their own way, and their transformations or mistranslations are revealing and poetic. Edgar Ramirez, asked by Mrs. Takemoto to use the word "maudlin" in a sentence, replies, "My maudlin career is taking off so fast if I don't try and control it I'm going to have a nervous breakdown." For "testimony," he writes, "My testimony is to someday windowshop at Alo Moana Center with his hand in mine." Like Edgar's, Linmark's voice remains sharp, funny and sad throughout this daring, desire-filled book. -
Robert Marshall
https://www.zingmagazine.com/zing6/reviews/rolling.html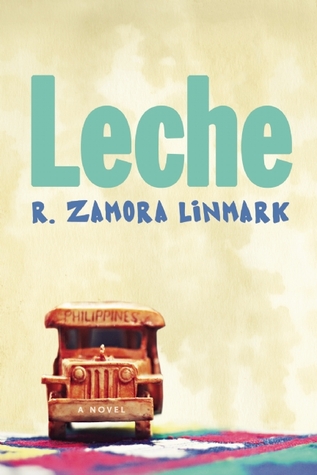 R. Zamora Linmark, Leche, Coffee House Press, 2011.
After thirteen years of living in the U.S., Vince returns to his birthplace, the Philippines. As he ventures into the heat and chaos of the city, he encounters a motley cast of characters, including a renegade nun, a political film director, arrogant hustlers, and the country's spotlight-driven First Daughter. Haunted by his childhood memories and a troubled family history, Vince unravels the turmoil, beauty, and despair of a life caught between a fractured past and a precarious future.
Witty and mesmerizing, this novel explores the complex colonial and cultural history of the Philippines and the paradoxes inherent in the search for both personal and national identities.
"As quirky and funny as its oddball characters, Linmark's latest is a unique, colorful portrait of cross-cultural experience and a view into the complexities of modern-day Philippines through the prism of an ex-pat's self-discovery and quasi-homecoming."—Publishers Weekly, starred review

"Linmark delivers a harrowing tale of love, family, and cultural bewilderment, a sardonically funny and vibrant novel about one man's journey to his past. . . . Linmark's novel reads like a bittersweet love letter to a vast and perplexing nation. This is a story of heritage, sexuality, and self-discovery that is as riveting as its locale is complex."—Booklist

"Linmark offers both a meditation on what it means to be Filipino and an exuberant, affectionate, irreverent love letter to the city of Manila from one of its own. . . . Linmark, who like Vince has lived in both Manila and Hawaii, develops a lively and engaging narrative voice as he skillfully juxtaposes these two very different cultures. . . . This is a jaunty, kaleidoscopic novel that amusingly chronicles the many challenges Vince faces moving between cultures. Recommended for readers of lighthearted literary fiction."—Library Journal

"At times uproariously funny, . . . Linmark weaves cultural and historical research into his story and employs a nonlinear structure to the narrative, including jumps in time, lists of Philippines "travel tips," and postcards to and from Hawaii. . . . Above all, Linmark's writing is literary: heightened, emotional and beautifully crafted. Linmark began as a poet, and pays close attention to rhythm, economy and word choice, even in such a rollicking, gutsy story. It is a story that many people can relate to, but one that can only be told by a writer of his caliber."—Honolulu Star Advertiser

"The story examines culture-shock, modern-day gay life and the way things were in the early '90s, all with Linmark's sense of funny. Only this time, the narrative is in third person. Embedded within the book is a certain playfulness. Interspersed are "Tourist Tips" for Manila, as well as postcards with photos that Vince writes to his friends back home. In short, Leche is all we've anticipated from Linmark."—Honolulu Weekly

"A whirlwind, whistle stop tour of Manila's high society, celebrity pop culture and seedy underbelly. . ."—Bookmunch

"This time around, Linmark uses his trademark po-mo fragmentation for surface texture; it compromises the novel's picaresque forward motion not a whit. This is a language—and a Manila —that should be familiar to readers of the Asian American canon, and Leche feels like the long-awaited completion of something we didn't know was incomplete."—Hyphen

"R. Zamora Linmark writes with the incandescent irreverence of a papal heretic, with the poetic and chaotic sense that only the Philippines can bestow, with the language of a sainted seer all held together with an elegant craft and a graceful style. Leche is a beautiful book." —Chris Abani

"Leche is a combustible comedy, a nightmare, a fever dream that with humor and horror somehow captures the fractured Philippine identity. Eye opening, hilarious, and relentlessly seductive, Zamora Linmark holds the reader until the very last page." —Sabina Murray,
Linmark (Rolling the R's) cunningly follows Philippines-born Vince De Los Reyes through the trials and surprises awaiting him upon his return to his home country after spending 13 years in Hawaii. Filipino émigrés are often known as "balikbayans"—a distinction, Vince finds as soon as he reaches Philippines customs, that is fraught with political and cultural implications. Having won a contest, Vince has returned to free accommodations and fanfare, but he's not prepared for the heat, politics, and eccentric characters that accompany life in Manila. He immediately falls for a cab driver and, at a celebrity-studded party, befriends a famous activist nun, an acclaimed director, and the actress daughter of the country's president. Within the narrative of Vince's Manila sojourn and the teasing out of his dark past, Linmark intersperses tongue-in-cheek tourist tips ("staring is a favorite Filipino pastime") and revealing postcards Vince writes to friends back in Hawaii. As quirky and funny as its oddball characters, Linmark's latest is a unique, colorful portrait of cross-cultural experience and a view into the complexities of modern-day Philippines through the prism of an ex-pat's self-discovery and quasi-homecoming. -
Publishers Weekly
It's 1991. A gay Filipino American returns from his home in Hawaii to his native Manila, where he is jousted by absurd encounters, thwarted desires, cultural and political upheavals and painful memories.
Vince, introduced in Linmark's
Rolling the R's
(1997), hasn't been in the Philippines since 1978, when he and his siblings left for Honolulu—six years after their parents flew off to escape the Marcos regime. Sensory overload greets him. The heat is stifling, he's accosted by strangers attractive and not, a mysterious sleeping sickness is claiming men and a volcano is about to erupt. Having arrived with members of the Filipino
balikbayan
culture, who cart unwieldy boxes stuffed with food cans, shampoo bottles and designer jeans, he acclimates to a different social setting when his good looks draw the attention of showbiz types. A film and pop-culture obsessive, he becomes part of a world including President Corazon Aquino's movie-star daughter, known as the "Massacre Queen of Philippine Cinema." The title of the book, which translates not as milk, as in Spanish, but as a four-letter word, is as cheeky a novel as you'll encounter. Broken up by postcard correspondence, dream sequences, glossary entries and "Tourist Tips" ("Staring is a favorite Filipino pastime. Don't take it personally"), it's nothing if not breezy. Linmark isn't funny or cutting enough as a prose stylist, though, or innovative enough as a postmodernist to achieve the tour de force he's after. As lacerating as he tries to be, his satire is rarely more than mild, and his attempts at magic realism fall short. But the book's nonstop energy and nonstop attitude are addictive. And in Vince you won't find a less predictable tour guide.
A lively satiric return to early '90s Manila, seen from both sides of the Filipino American divide. -
Kirkus Reviews
In the opening pages of R. Zamora Linmark's sprawling new novel,
Leche
(Coffee House Press), a young gay Filipino-born American, Vince de Los Reyes, returns to the Philippines only to be told at Immigration that now that he owns a U.S. passport he is no longer truly Filipino. Thus, he must stand in the long line with all the other "balikbayans," those émigrés who arrive at the airport on return visits from the States lugging rope-tied boxes stuffed with perfume samples, hand-me-down designer jeans, and appliances marked with first-world labels. The novel's stakes are immediately apparent—Vince's ambivalent and fractured sense of identity, the madness and the melancholy of trying to return "home." What follows is a riotous ride through modern day Manila featuring encounters with a larger-than-life cast of characters including a (perhaps) bisexual cabbie, an activist nun, an acclaimed movie director, and President Corazon Aquino's actress daughter, also known as the "Massacre Queen of the Philippine Cinema."
Much like Linmark's delightful debut novel,
Rolling the R's
, which was set in Honolulu and told the story of a set of precocious fifth-graders obsessed with popular culture as a way of surviving their dispossession from the world around them,
Leche
manages to be at once formally inventive and compulsively readable. With its non-stop action and experimental structure—interspersing postcard correspondence, dream sequences, and, best of all, tongue-in-cheek "Tourist Tips" and entries from "Decolonization for Beginners" that cannily anticipate the book's own potential misreading as little more than an opportunity for some cross-cultural eavesdropping—
Leche
educates and entertains in equal measure. This helps make it a great candidate for a summer read at the beach, on the airplane, or in the relative calm and comfort of an air-conditioned subway car (the novel does an excellent job of evoking Manila's extreme heat and frenetic congestion).
Some readers may find the interior landscape of the central character somewhat underdeveloped by comparison, overwhelmed as he is not just by his environment but also by the vibrant minor characters he meets as well. And the depth of Vince's consciousness does feel somewhat compromised by the combination of the novel's unconventional structure and the fact that it is written mostly in the third person. Still, much like Ellison's Invisible Man or even Fitzgerald's Nick Carraway, Vince's principle role is that of a witness to the messiness of what it means to be American; or more precisely, in his particular case, what it means to be American, postcolonial, and queer in the early 90's, a time when the Philippines was a hotbed of political, cultural, and environmental turmoil. Much as it still is today. -
Nicholas Boggs
https://www.lambdaliterary.org/reviews/07/04/leche-by-r-zamora-linmark/
Going to
Manila
always involves taking in its relentless chaos and contradictions. We all know, or have heard, of its epic traffic jams, mind-boggling socioeconomic disparities, and over-the-top pop culture. In such a baffling urban landscape, how does one's idea of a
Pilipino
identity figure?
For Vince, the twenty-something
Pilipino
-American
balikbayan
in R. Zamora Linmark's new novel
Leche
, trying to negotiate his "
Pilipino-ness
" in post-Marcos Manila proves to be a wild adventure. It is 1991 – First Daughter
Kris Aquino
is the current queen of Philippine media,
Imelda Marcos
is trying to bring her deceased husband's body back for a Philippine burial, Mount
Pinatubo
is just about ready to erupt, and U.S. military personnel are beginning to evacuate Clark Air Base. Vince, having recently won first runner-up in a Mr.
Pogi
contest in Hawaii, is offered a trip to Manila in his honor. It is his first time back to his native country in 13 years, but it does not feel like a return home at all. The experience amounts to nothing less than culture shock. Vince cannot quite comprehend the weird metropolitan behemoth called Metro Manila, much less its strange inhabitants and their view of the world. But as he connects with the people of the city he begins to discover truths about his past and his own identity.
Linmark's descriptions of Metro Manila (or "Metro Malignant," as one character describes it) from the point of view of a bewildered Pil-Am are absolutely spot-on. Appropriately, he injects much humor into Vince's incredulous observations of a world of crushing poverty, toxic pollution, irrational driving, language confusion, tragic history, and cultural mix-ups. It is an onslaught of meanings and behaviors that Vince struggles to understand. One of my favorite moments is his amused double-take at the collection of amazing signs he has seen in the city (e.g. "
slow men at work
" and "
look up for falling debris
"). Another is when Vince rides a
jeepney
and watches in astonishment as the driver performs a miraculous feat of multitasking like a three-eyed, eight-handed Hindu god.
Beyond the story of
balikbayan
boxes and trips to mega-malls, Leche is really about Vince's journey to find what it means to be a
Pilipino
. In addition to Vince's narrative, Linmark adds postcard messages, handy lists of "Tourist Tips," and even academic readings. It is a clever multi-layered approach that paints a broad, textured swath of a culture and people who (like Vince) are essentially still trying to figure themselves out. Vince's contemplation on identity reaches a climax during a TV talk show hosted by Kris Aquino on which he is a guest. He and Kris get into a comical debate over the reasons Vince is not a genuine
Pilipino
. For Vince,
Pilipino
identity persists across borders no matter what ("
don't [our] a**holes remain Filipino? Once a Filipino a**hole, always a Filipino a**hole, right?
"). Kris and company insist he is no longer
Pilipino
, for reasons ranging from the technical (if you are a U.S. citizen, you are not) to the cultural (if you don't speak
Tagalog
, you are not). If you have ever been in such a conversation, you will be familiar with the kind of hair-tearing frustration Vince naturally feels and the lingering hurt that comes when even those in the Philippines cast Pil-Ams like himself as "them."
Leche
is a funny and poignant look at the Philippines through the eyes of a young Pil-Am. You, like Vince, will come to realize that, despite all the crazy trappings, there is something special about being
Pilipino
. And like Vince you can learn to embrace all of the wonder, complexity, humor, and heartbreak that come with it. Read it for the Tourist Tips alone: "
Manila is very rich in air pollution
." "
Filipinos are OCDs (Obsessive-Compulsive Decorators), constantly decorating everything from altars to jeepneys to rearview mirrors to the English language.
" "
Remember: in Manila contradictions are always welcome, including—and especially – yours
." -
http://bakitwhy.com/articles/book-review-r-zamora-linmarks-leche
A novel of place and character, R. Zamora Linmark's
Leche
focuses on six days in the life of Vicente "Vince" de Los Reyes, as he returns to his birthplace, the Philippines, after thirteen years of living in Hawaii. As he travels to Manila for the first time since he was nine years old, his story takes a nonlinear approach to a homecoming tale.
How does one classify this type of storytelling?
Leche
is bursting with local flavor, from Vince's long lost relatives to the local celebrities that seem to pop up out of nowhere wherever he goes. Life in Manila in 1991 is vibrant and changing every minute, and Linmark captures the texture and gradations of this time and place. Vince finds brief infamy as a guest on a live talk show hosted by the daughter of the President. He also meets the stars of his, and his family's, favorite movie from before they left for the United States. He wanders the streets and visits relatives that he hasn't seen in some time, has a brief affair with his driver, and meets an attractive tourist who may know more about Manila than he does. At times, the energy of the book is frenetic, as Linmark weaves stories within stories, attempting something akin to what Fellini did in films like
La Dolce Vita
and
Amarcord
--drawing together every character and influence inside Vince's story, creating a frenzied verisimilitude in an effort to capture the whole chaotic sum of their lives.
At times, however, the chirping, swooping style can make the narrative feel overly scattered. Linmark uses poetry, prose, charts, lists, and his playwright's ear for dialogue to vary and enrich the texture of
Leche
, but this can also distract from the story at hand. The novel is, ostensibly, about Vince, but often his role in the narrative is surrendered to playing witness. The passages where we see the most of him are when he muses on past experiences and loves, nervous about the fact that, at twenty-three years old, his busybody family doesn't understand why he hasn't found "the one" yet. We see him falling in love with his best friend in high school, then for cad after cad in Honolulu, a gay community so small "it can be measured in inches."
Linmark makes some excellent points about identity. Vince struggles with a dilemma familiar to many first- and second-generation immigrants: where do I fit in? In Hawaii, he feels Filipino, but in the Philippines he is deemed too American. His exploration of his heritage, in turn, brings even more complications to the matter. It is a culture that has been so deeply affected by colonization and political upheaval that it is difficult to define where, exactly, it fits in to the wider world. Most everyone in Manila uses Spanish words, but their meanings have mutated with time. The "leche" of the title means "milk" to most Spanish speakers, but to Filipinos it means "shit." It is also the name of a gay club Vince finds in an old church--run by a drag queen, and apparently was the setting for one of Vince's favorite childhood movies. Vince is a hybrid in a culture that has already been hybridized. Doesn't that mean he should fit in?
In its mission to capture the entire story,
Leche
is sometimes successful, though other times the reader might feel like they would be fine with half. Vince's struggles are relatable to anyone who has come of age trying to reconcile their identity with their desire to identify. -
Frederica Bepler
http://kgbbar.com/lit/journal/leche_by_r_zamora_linmark/
'Leche' author Linmark lives his own 'Manila Noir' days
R. Zamora Linmark, Prime Time Apparitions, Hanging Loose Press, 2005.
"Headlong, harrowing, holy and at times even hilarious, Zack Linmark's poems give us the vibrant technicolor life of crossed time zones and shocked cultures. Manila meets Michael Jackson here: be prepared for a thriller unlike any you've seen before! From this fine poet's tender heart, experience the spectacle of the humane"-Rafael Campo. Born in the Philippines and raised in Hawaii, R. Zamora Linmark is the author of long-time SPD bestseller ROLLING THE R'S, which he has also adapted for the stage.
"Manila meets Michael Jackson here: be prepared for a thriller unlike any you've seen before." --
Rafael Campo
..." witty and disenchanted, sexy and tough, jangled with longing and the crazed changes the wild new world works." --
Mark Doty
R. Zamora Linmark, The Evolution of a Sigh,

Hanging Loose Press, 2008.
"Linmark's new collection of poetry is a celebration of what can be done to and with the English language in the service of tumult, teasing, post-Postmodern Filipino showmanship, Shinjuku shenanigans, trans-Pacific pyrotechnics, turning-Japanese (and you know what I'm talking about—), and, yes, Beauty. Especially Beauty."—
Kimiko Hahn
"Thse poems made me laugh, made me envious and repeatedly (since Linmark works without a safety net) took away my breath." --
David Trinidad