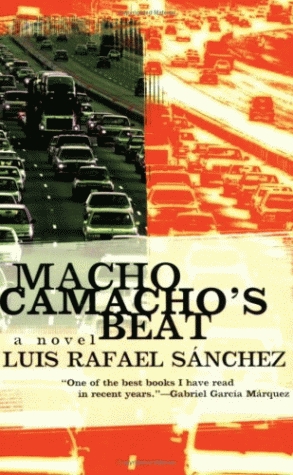 Luis Rafael Sánchez,
Macho Camacho's Beat, Random House, 1980.
/

Dalkey Archive Press

, 2001.
Over the course of a single afternoon, Macho Camacho's hit song 'Life Is A Phenomenal Thing' blares out of every radio in San Juan and connects the lives of Senator Vicente Reinosa, his poor mistress, his neurotic, aristocratic wife and his fascist son. Full of puns, fantastic wordplay, advertising slogans, and pop-culture references, Macho Camacho's Beat is a grimly funny satire on the Americanization of Puerto Rico.
"Life is a phenomenal thing, frontwards or backwards, however you swing."
Infinitely multiplied by the blare of radios, TVs and record players in San Juan, Macho Camacho's guaracha weaves its way across the city and through the lives of one family on a single day: Senator Vicente Reinosa, a crooked politician stuck in a gargantuan traffic jam; his neurotic, aristocratic wife; their son Benny, a fascist who is quite literally in love with his Ferrari; and the Senator's mistress, who inhabits a poorer world with her idiot child, her cousins (Hughie, Louie, and Dewey) and her friend Doña Chon.
Macho Camacho's Beat
blends the music of puns, fantastic wordplay, advertising slogans, and pop-culture references with the rhythm of the guaracha to satirize the invasive Americanization of the island and the way in which a momentary fad impacts the culture at large.
Originally published in English in 1980, S nchez's comic novel is told in snippets as it follows the lives of several inhabitants of San Juan, Puerto Rico: a crooked senator, his mistress, and his idiot child; the senator's wife; and a son in love with his car. The text is presented as verbal wordplay replete with advertising slogans, puns, and pop culture references, which the author uses to show the influence a large country (the United States) can have on a small one (Puerto Rico) and how a fad in one can alter the culture of the other. - Library Journal
The beat of a song, a guaracha sung by Macho Camacho (it's called ""Life Is a Phenomenal Thing""), streams out from every radio in San Juan and acts as the string for this necklace-like novel--a jaunty, contemporary Puerto Rican book that jumps from one character to another on a single San Juan day. A fat-cat conservative legislator, Senator Vicente Reinosa (""Vince is a prince and his guts never wince,"" goes one of his innumerable inane campaign slogans), hears the song in his car as he waits in a traffic jam--which is the result, though the senator doesn't know it, of a bomb-blast set off by his own puerile, Ferrari-owning terrorist son, Benny. The senator's black mistress hears it as she waits patiently for him in the condo that he's bought for her. The senator's rich, snobbish, delicately nerved wife hears it coming from out in the street as she waits in her psychiatrist's waiting room. And the song drives them all substantially crazy, weaving together the sinuous contradictions of modern Puerto Rican life: false rich and real poor, Americans who aren't really Americans, lusts hidden with phony demeanors. Sanchez fragments all this into percussive, alliterative, stanza-like sections, full of knowing cultural and literary allusions. Sometimes reminiscent of Cabriera-lnfante's Three Trapped Tigers (though less outrageous) and another opportunity for a tour-de-force translation by el Magnifico, Gregory Rabassa--an attractive, small-scale entertainment with special socio-cultural interest. -
Kirkus Reviews
One of Puerto Rico's outstanding literary figures, Luis Rafael Sanchez is renowned for his plays, short stories, essays and poems, as well as his novels. He currently teaches at the University of Puerto Rico.