Jordan A. Rothacker - a clever Mobius strip narrative and an invitation to a secret society comprised of history's most subversive artists
Jordan A. Rothacker, Gristle,
Stalking Horse Press,
2019.
excerpt
excerpt
2
Gristle
is alchemical theatre, a collection of weird tales, twelve fingers on the steering wheel, with D.H.Lawrence and Sylvia Plath asleep across the back seat, Chekov shivering on the hard shoulder…
Gristle
is a post-beat riddle, a comedy, a nightmare…
Gristle
is Salinger descending from his eyrie with a bottle of Thunderbird. Jordan A. Rothacker has stolen a dream car…The road doubles back upon itself, but the riders are still lost. Sincerity and foolishness glow from the map. Follow, follow, the Moon is over the blacktop and the canny ghosts and story serpents are coming out…
"Jordan Rothacker might be a modern-day prophet. In Gristle, the stories are like parables. One of the stories, 'Parables Three,' is just this. These stories set the tone for the entire collection, with a magician selling potions he doesn't believe in. In another story, Rothacker writes, 'The body of the town has decayed with the weight of such time and tempest that no real discerning marks remain.' This collection portrays the sometimes grim reality of modernity, and how technology has further separated us from our humanity, our ability to be empathetic and kind toward others. The interactions, and failures, of the characters illustrate this, and the lack of true communication. It's like the humans in this collection are all passing ships in the night that never pass through each other. The magic-realist settings of the stories allow us to hop from witnessing a burning corpse in Georgia, to a doctor's office, 1945 China, ghosts, Catholicism, sex, and ordinary life. The conversational, image-rich narratives will dive you straight into other worlds full of truths. The book explores sexual and gender dynamics in ways that feel honest and don't dress up the reality of the story, but asks the right questions about how and why people interact with each other the way they do. Hopefully, the book will ask these questions and you'll try to find the answers, like a person a long, long journey to self-discovery." —Joanna C. Valente
"Jordan A. Rothacker's Gristle reads like episodes of The Twilight Zone if written by Krzysztof Kieslowski. There are moments that we think of as ordinary, detailing loneliness, intellectual frustration, unrequited love. But there is a spark of something in them, whether you want to call it divinity or magic, that brings a notion to the human condition, that these moments are not to be let to pass without knowing their weight. They are quiet, but not ordinary." —Pam Jones
"Jordan Rothacker's Gristle oscillates between the quaint and the darker impulses of life. Thematically, these short stories tackle the subjects of violence, sexuality, politics, and work. But each plays out in a different style, ranging from realism to parables to gothic ghost stories. The overall effect is a new bohemian voice that is somewhat nostalgic for a post-adolescence that celebrates art, chases sex, and delights in life on the periphery. Yet the authorial voice—with astute diction and controlling cadence—doesn't romanticize this stage of life. These stories exist in an uncanny valley. This contrast and range is why I will return to reread this book. It progresses like a tasting menu at a gourmet restaurant, with the author peaking out from the kitchen to watch the readers react and respond to this engineered experience." —Jacob Singer
"I enjoyed these stories, I read them on my coffee breaks at a doomed oil refinery in NJ. Each story made me laugh, and often caught me by surprise. Rothacker took me up into the clouds to somewhere good and true and beautiful, far far away from my own troubled reality. I'll be sure to go back and revisit the world of Gristle when I'm miserable again." —Bud Smith
"I Realized the Text Should Lead Me": An Interview With Jordan A. Rothacker
My Shadow Book by Maawaam, ed. by Jordan A. Rothacker, Spaceboy Books, 2017.
excerpt
www.jordanrothacker.com/
Percy Shelley once remarked, "Poets are the unacknowledged legislators of the world."
What if Shelley was right, but his understanding didn't go far enough? What if there was an ancient, interdimensional, supernatural cabal that strives to direct human progress, that has worked tirelessly in the darkness to save our world in spite of our enlightened penchant for destruction? Novelist and literary scholar Jordan A. Rothacker shares his discovery of the notebooks of Maawaam, a Shadow Man and member of the secret society of Shadow Men and Women. What does Rothacker's discovery mean for our world? Will Maawaam's cryptic fragments, like the Rosetta Stone, provide a key to understanding this ancient and powerful tradition?
Science fiction or memoir; poetry or prose; art manifesto or political call to action; wisdom or nonsense? What is Maawaam's Shadow Book but what lies between, what lies in the shadows.
– from the Spaceboy Books website
interview:
Summer 2018 issue of Rain Taxi Review
,
interview at
Vol.1 Brooklyn
and it was a lot of fun and reads pretty well.
At
Blood Tree Literature
I interviewed myself about the book and the kind editors there also ran an excerpt.
"My Shadow Book contains multitudes. It's a fascinating collage of quotations, diaries, drawings, aphorisms, confessions, short fictions, and political manifestos. Concealed within is a clever Mobius strip narrative and an invitation to a secret society comprised of history's most subversive artists. It's many potential books in one, waiting only for a reader to bring it to life." –
Jeff Jackson
"Jordan Rothacker's ebullient, entrancing, playful, linguistically sensuous My Shadow Book is a triumph of narrative and structural inventiveness. As the intrigues and mysteries unfold, Rothacker's polyphonic storytelling becomes a journey of ever-increasing entrancement. Invoking the epic speculative works of Clarice Lispector, Milorad Pavic, Edmond Jabés, and Borges, My Shadow Book is a masterfully crafted kaleidoscopic reinvention of literary beauty: a fragmented, arcane, haunting, and deliciously luxurious complexity of shimmering light that illuminates the very edges of thought and language." –
Quintan Ana Wikswo
"In
My Shadow Book
Jordan Rothacker is amanuensis to a mysterious yet familiar intelligence, and is our guide to a literary operation where—between the fragments, aphorisms, and stories—we are reflected in his gleaming scalpel. Part autopsy, part reconstruction, a stitched maze, here is the melancholy play of Borges, delighting along the seam between Boswell and Roswell. Rothacker's shadow men maintain an Area 51 of style and secrets. Recognize yourself there, or discover yourself there, the joy of
this
shadow book is in its devotion to the personal canonical, to discovering alien knowledge, the voices, zones, and memories that preserve us."–
James Reich
"In
My Shadow Book,
by Maawaam, editor and writer Jordan A. Rothacker weaves a tapestry of symbiotic diary entries, sections of prose, drawings, and dark musings from a dark and light soul who seems to teeter along the precipice of falling into eternal gray shadows. If the writer Maawaam is a word tour guide through existential angst and evanescent clarity then Rothacker is the hidden conductor, keeping time to his haunting song. Like ink dripping from a gothic paintbrush, text varies from expertly relayed metaphor to psychological realism. In one section Maawaam decrees: 'We bring out this army of bricks and stones and build this city…protecting truth, it moves from tower to tower,' and in the next, this modern seeming sage bemoans: 'I wish I could just walk into to the light, live in the light. I wish I could just give up the ghost.' Readers can be grateful that Maawaam keeps his ghosts close; we feel them on every page."–
Jennifer MacBain-Stephens
"In the sublime
My Shadow Book
, Rothacker carefully traces an aesthetic genealogy of shadow-thinkers, deftly fusing it to his own narrative. The end result is stunning, mesmerizing, an idiosyncratic mythology, reminding us of the possibilities of what this strange thing we call 'a book' can be. Rothacker offers up a graceful and radical counter-poetics to give the reader deep and serious pleasure in our troubled times."–
Alistair McCartney
"Rothacker continues to surprise and delight as he smashes literary norms with
My Shadow Book
. Rothacker serves as curator to the lost notes of Maawaam, a Shadow Man, that chronicle, analyze, and craft a message meant to heal a desperate world. Through Maawaam's inner most thoughts, perspectives on the successes and failures of fellow Shadow Wo/Men, and snippets of his writing, we witness his evolution. Rothacker's message is integral in any age: to write, to read, and to live makes us a part and party to the entire unraveling of human history—bridging time and space seamlessly. As long as a story can be told, it can live. As long as a story can live, it can live forever."–
William M. Brandon III,
In the summer of 2011, novelist and scholar Jordan A. Rothacker discovered a box containing the journals of a being known as Maawaam. Thus begins
My Shadow Book
—part literary manifesto, part metafictional frame narrative. The novel itself is credited to Maawaam, while Rothacker gives himself the title of editor. This framing device, the found manuscript, is used throughout literature as a way of creating verisimilitude in the reading experience. By claiming to have found and compiled Maawaam's papers, Rothacker gives the novel legitimacy as a real, authentic document, while also absolving himself of any blame for the contents: he simply discovered these writings, and so is not responsible for their creation.
Despite Rothacker's apparent effort to distance himself from the fiction, in Maawaam we have the character of a struggling writer. He calls himself a Shadow Man, a "double agent" writing in the darkness while presenting himself as a functioning member of society in the light. Is "Shadow Man" another way of saying "artist," or is Maawaam otherworldly? Perhaps both. In his journals, Maawaam quotes William S. Burroughs, Anna Kavan, and Guy Debord; he writes about his love life and his deepest anxieties; and he includes excerpts of stories, poems, and novels he's trying to write. He is deeply human. And yet all of this takes place in the shadows, where he convenes with other Shadow Men and Women. Maawaam refers to regular people as "the people of the sun." He fragments his journals with a series of black stars, both to indicate section breaks and to remind readers that he lives by the light of a different, darker sun.
As in his previous novel
And Wind Will Wash Away
, Rothacker here displays his wisdom, subversive influences, and literary prowess. He crafts a character better read than most of us, but also greatly troubled by his own psyche. Maawaam's ruminations read like a love letter to suffering artists everywhere:
There are those nights when you get up to go to the bathroom—she remains there asleep—and you catch your reflection and you can see he is dying and you feel like you're dying and you can feel it, the dying slowly and you wonder, is this how everyone feels all the time?
That question—
is this how everyone feels all the time?
—is fundamental to why we read. Literature gives us the opportunity to glimpse other lives and understand how other people think and feel, and the more we read, the more we realize that our feelings can be found reproduced in countless others.
Maawaam is obsessed with the phrase "give up the ghost," which he interprets as a Shadow Man giving everything to the people of the sun. This sounds like both an unburdening of the soul and also a form of death. He says: "I have tried in my own way to be free… I have tried in my own way to give up the ghost. So many ghosts to give up before the final ghost." These ghosts are the innumerable lives he's created in the shadows, through fiction and poetry. For Maawaam to give up the ghost he must share his work with the world—a monumental task requiring him to finish the stories, poems, and novels he's begun, or show them to us in their rough, unfinished state.
In
The Secret Name
, one of the novels Maawaam is writing, the protagonist (named Landry Bread) is sent on a journey to discover his "secret name." Landry is a hopeless guy living in Atlanta, and wants nothing more than to believe there's something more to him, some secret other self waiting to be discovered. Instead, what Bread finds is a novel titled
Amerika the Beautifuk
by a mysterious and enigmatic author named Maawaam (a book within a book within a book). Here we have the character, Maawaam, discovering his own secret name inside the text he's writing:
in finding that name, and writing that character, I was writing a role for myself. I could write the novel, The Secret Name, and I could stage it like I found it, a manuscript in a box somewhere, and I am just the editor of it, and the actual author is this MAAWAAM. He is the author of the inner and outer text. The story of Landry Bread just floats there in the middle.
The writer is essentially and irremediably tied to his work. Attempts to detach from the writing—through pseudonyms, frame narratives, and invented worlds—invariably lead the writer back to himself and his own anxieties and obsessions. But there is also pleasure in inhabiting this invented world. Maawaam's mind is labyrinthine, and while it may contain some fictionalized elements of its creator, it is unique and compelling, and worthy of being explored in the closeness My Shadow Book achieves.
Rothacker's novel, disguised as a journal containing a novel (and so on), is at times dizzying. The form is challenging in its unyielding metafictional twists. Identities are nested one within the other. What makes the novel so impressive is how, through all of these experiments in storytelling, Maawaam's vulnerability and desire are thoughtfully articulated and reiterated in various aphorisms, quotations, and poems, in a feedback loop of loneliness and longing.
This is a strange and ambitious novel. To invent a writer whose work is as bizarre as Maawaam's and then to lead the reader into those works, is no easy task. Rothacker writes from the heart, but disguises that heart in shadows. Or maybe he truly has discovered a heart in a box of papers in a shadowy closet, and he is illuminating it for us here. Either way, My Shadow Book is sharp and singular and full of mystery. -
William Morris
https://www.cleavermagazine.com/my-shadow-book-a-novel-by-maawaam-edited-by-jordan-a-rothacker-reviewed-by-reviewed-by-william-morris/
The purpose of a book can be something different from one person to the next. A fellow writer once told me that for him, a book can be a temporary escape from the drudgery of the real world. That was more important to him than delivering a message; provide diversion for one person and you can eventually better the world. For me, a book can often be a reflection of the circumstances and society that compelled its creation, with the hope of potentially improving these conditions by commenting on their causes and effects. A good book can be both, and so much more.
My Shadow Book by Maawaam, edited by Jordan Rothacker, does indeed do both. At times it is a manifesto, a scattered genealogy of the cabal of Shadow Women and Men, a personal struggle between one's proposed destiny and a proposition of love. In the preface, Mr. Rothacker details how he discovered Maawaam through a cache of writings, photos and drawings hidden in a box. Spending six years with these materials, the editor distills the essence of the mysterious Shadow Man into a provoking read and Maawaam's message is more prescient now than ever before. The mission of this collection of pioneering prophets has been the same throughout history: to enlighten mankind and defeat the People of the Sun, whose purpose is to keep the human race ignorant and incapable of fulfilling their potential. Given the current domestic political climate, as well as that of the world at large, Mr. Rothacker could not have curated and presented this Shadow Book from Maawaam without sensing the urgency of publishing this compilation. These lessons are presented in the form of quotations, illustrations, prose poems and fiction excerpts, reading like a non-linear call to action and a confession. Littered throughout Maawaam's musings are quotes from past Shadow Men and Women to both support their legitimacy within the order and to also urge the uninformed toward greater ways of thinking in the hopes of changing their view of the world. Dating as far back as Heraclitus of Ephesus, the Greek philosopher pre-dating Socrates, and according to him, "people dull their wits with gibberish, and cannot use their ears and eyes." This is regrettably still a common affliction: terrible celebrities and "fake news" are still more highly rated and easier to digest than what is really happening around the world. The People of the Sun seem to always have had the upper hand. In the very next passage, Maawaam encouragingly responds: "The eye, the ear, the mind in action; these I value." Anna Kavan decried, "Real life is a hateful and tiresome dream." As a Shadow Woman, she attempted through her work in various media to explore unknown factors and maladies of the mind while also bringing attention to the current state of psychiatric treatment and care. In spite of her own addiction and madness, her commitment to her duty was as absolute as her detrimental self-sacrifice. "They never understand us," Maawaam says, "but we don't do it for the recognition." It is martyrdom for their responsibility to the order of Shadow Men and Women.
A common thread uniting these clandestine workers is the need to work in secret, which can naturally lead to extreme loneliness, depression and oftentimes the early implosion and extinction of their life-giving black stars. Their furtive personalities can be viewed as tremendously bleak. Heraclitus, impressively living to be around sixty during a time when the average life expectancy was considerably less than six decades, was nicknamed "the Obscure," and also, "the weeping philosopher." The vocation can be taxing, as we have seen, so the need to work in private is logical. But can the love of all mankind be supplanted or lessened if a love for a single person fosters and grows? Maawaam explains: "We are alone, that is how we work. In a crowd of thousands. In a bed of two, we are always alone. We listen, watch, smell, taste, record it all from each our own moving stone citadel. Alone." Maawaam throughout the book seems to transcend time, being spoken of in both past and present. A more present incarnation chronicles an emerging sentiment that eventually becomes love for a woman who initially was taken on as part of his normal, worldly disguise. From the first entry detailing a morning after spending the night together until the last account where he is wanting her to love him and know his true self, we see a more intimate side and wonder whether love and duty can coincide uninhibited by each other. Maawaam finally yearns for her to be his ally. Early on, in the middle of the burgeoning relationship, Maawaam states that "Every Shadow Man is a double agent. Every operation is a false flag. Sometimes I just want to break down and cry." To advance from mechanically answering "I love you" when the woman says it first and wondering how she could possibly love him without really knowing who he is to then proclaim the possible notion of a wife, maybe, is profound. This path is not unique; most of us have struggled with whether we should sacrifice some sort of obligation or purpose for the love of a single person. What is eventually more important? And again, how successfully can the two coexist?
In the preface, Mr. Rothacker wonders where his culpability lies since he has exposed Maawaam and the objectives of the Shadow Men and Women. Since Maawaam named names, we can be grateful that the lineage has been uncovered. I share in the editor's belief that the world needs to know these long-kept secrets. Living in the Washington, D.C. metropolitan area for the past decade and a half has opened my eyes to just how persuasive and charismatic the People of the Sun can be and why Maawaam, the self-proclaimed inventor of the political horror genre, deserves to be read. Eileen Myles, a present-day Shadow Woman, said, "the secret of the modern world is that we are all alone." Now the Shadow Men and Women have been revealed and it is promptly our undertaking to work alongside these lonely combatants for the betterment of humanity, compassion and civilization. -
Jarrod Campbell
https://heavyfeatherreview.org/2017/12/18/rothacker/
"Reading a book is no different from reading a painting or a symphony or a person or a situation or a city."
My Shadow Book purports to be a collection of excerpts from notebooks by a mysterious figure named Maawaam. By presenting the poems, prose fragments, unfinished novels, philosophical ponderings, and sketches, Jordan Rothacker attempts to show the secrets that Maawaam kept in his writings.
Through most of the book, Maawaam talks about a secret order he is part of known as the Shadow Men. The Shadow Men seems to be a cabal of writers, philosophers, and artists who have "stepped out of the light." What this entails is left vague, but it seems to heavily involve delving into "unpleasant" truths. In that case, it's no wonder this order includes figures like Nietzsche, Bataille, Fanon, and Acker.
"The Shadow Men are the handmaidens of the forgotten. We facilitate Ubertragung. We ferry the return of the repressed. There are many that slumber in that half-light."
Maawaam's preferred method of digging into unpleasant truths is through literature. My Shadow Book is littered with poems, short stories, and excerpts of unfinished novels by Maawaam. Between these fragments, especially those of the novels, Maawaam makes no secrets of his frustrations in writing. This is definitely a "writer's book" as many writers will relate to and understand Maawaam's frustrations. Take this excerpt where Maawaam addresses a strange novel he attempted to write called BOMB.
"I don't know if I'm going to finish BOMB. I don't know if I can. And so what if I did? It couldn't sell, that much I know. Who would read such a thing? I would have to be much more established first before inflicting that on an audience. I would need something else first, something easier, something fun."
Despite his frustrations, Maawaam still produces some amazing prose. One wonders if Rothacker is referring to his own earlier plot-driven novel And Wind Will Wash Away in comparison to this very fragmented piece of meta-ficiton. But of course, this is Maawaan's work, not Rothacker's.
A large part of the second half of My Shadow Book is taken up by notes about, and chapters from, one of Maawaam's unfinished novels called The Secret Name. This novel is about a young man named Landry Bread who receives a note that he's to seek his secret name. We follow Bread on his trip and the people he meets along the way. At one point he discovers a novel called Amerika the Beautifuk, a William S. Burroughs-esque book (Burroughs having also been previously mentioned as a Shadow Man) written by a man named Maawaam. We also read an excerpt from that novel. A book within a book within a book within a book.
Here the fragmented nature of the book is somewhat frustrating. Many of the unfinished books described are just as, if not more, fascinating than My Shadow Book, and I was a bit disappointed to have Landry Bread's narrative end abruptly. While this case of literary blue balls was obviously intentional, it makes it no more enjoyable.
Another of the more disappointing parts of the book is the ending. It's very heavily implied (though not explicitly stated) that Maawaam is not any kind of person or spirit, but the concept of writing and/or literature itself. While my interpretation of the ending may be wrong, I do find it rather corny that the final fragment flashes back to Maawaam creating what are likely the oldest known cave paintings.
VERDICT: While it doesn't succeed in everything it sets out to do, Rothacker's/Maawaam's My Shadow Book remains a fascinating and beautifully written meta-novel. The prose is excellent and the ideas presented are insightful. The book is often frustrating but rewarding more often than not. Some may find the fragmented nature and lack of a central plot too much, but I still highly recommend this to fans of experimental literature.-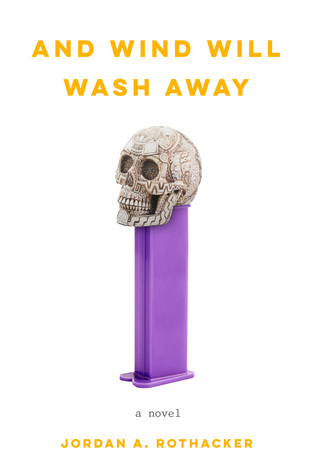 Jordan A. Rothacker,
And Wind Will Wash Away,
Deeds Publishing, 2016.
WHAT IS BELIEF? What is it to believe in something, anything? And how far are you willing to go for that belief? Atlanta Police Detective Jonathan Wind believes in truth, but otherwise he doesn t normally have time for questions like these; he has crimes to solve and killers to catch. But this case is different. This case will challenge everything he s ever thought or known. It s also personal. It s 2003 in Atlanta, and the jewel of the Southeastern United States is sprawling far and wide with new industry and burgeoning markets. The city is at once a remnant of the Old South and an international cosmopolis. However, in And Wind Will Wash Away Atlanta isn t just a setting, she is practically a character herself, a complicated character with many layers, layers that most people traverse every day but barely notice. Jordan A. Rothacker s thrilling first novel follows Detective Wind as he peels back the layers of his beloved city, pursuing the truth behind the strange death of his mistress, Flora Ross. This pursuit leads him ever deeper into a world of sex workers, goddess worshippers, Aztec revival cults, blood sacrifices, and spontaneous human combustion. Rothacker s book takes readers into the religious underbelly of Atlanta, yet is essentially a story of people and the ways in which they struggle to relate to one another and to the world in which they live. Part mystery, part police procedural, part theological treatise, and part love story, And Wind Will Wash Away is a debut novel like no other.
An Atlanta detective, hoping to explain his mistress's fiery death, dives into a world rife with strange religious beliefs in Rothacker's (The Pit, and No Other Stories, 2015, etc.) unconventional thriller. Police Detective Sgt. Jonathan Wind keeps his relationship with prostitute Flora Ross a secret from everyone, including his girlfriend, Monica. So he says nothing when he recognizes a crime scene: it's Flora's apartment, including what appear to be her charred remains. The fire seems to have been concentrated on her body, damaging little else, so Wind's partner, Detective Sonny Ledbetter, suggests spontaneous combustion as the cause. The detectives first question psychic Tia Maite, whom Flora saw weekly, but once it's clear that the investigation's going nowhere, Sonny closes the case by marking the death as accidental. Wind, however, was in love with Flora and is determined to learn more about her "spiritual pursuits"—a part of her life she kept private. He cashes in his vacation days and initiates an unofficial inquiry. After he meets Flora's friends and interacts with a group of Goddess worshippers, he ultimately examines his own views on various religions, identifying himself as an agnostic. He also becomes sure that a Goethe-quoting albino dwarf had something to do with Flora's demise, which is seemingly confirmed when two other men accost Wind while citing Goethe passages. Answers may finally lie within a bizarre ritual—but not necessarily the answers Wind wants. Although a traditional detective story provides the foundation of this novel's plot, the author zeroes in on his protagonist's inner conflict. There's a great deal of philosophizing, including a nearly 20-page dialogue on such subjects as philosopher Immanuel Kant and theism's limitations. Wind, though, has many nuances, and his collection of myriad Pez dispensers (all of historical figures) sometimes sparks discourse or, in one case, flashbacks. Rothacker's prose meticulously details the action and environment with typically exquisite results: "a solid one-story brick house...corresponded to a darker, ink-rendered version beneath the pen of Jonathan Wind." Metaphors of fire and wind are in abundance in this story, which is more concerned with understanding than resolution. Readers may be disappointed by the ending, though, which eschews a nice, clean wrap-up and fully embraces lingering doubt. A penetrating, provocative tale of a detective who psychoanalyzes as often as he investigates. -
Kirkus Reviews
Rothacker's debut novel is a rambling narrative that's missing a plot and is instead overstuffed with dense, arcane knowledge . Atlanta Det. Sgt. Jonathan Wind lands a new case that triggers an obsessive and bewildering quest for truth. Upon investigating charred remains, Wind discovers the victim to be his mistress, Flora Ross. The cause of death: spontaneous human combustion. Disagreeing with the final verdict of "accidental death," Wind decides to search on his own, to make sense of Flora's death and learn who or what was really the cause. Digging deep into Atlanta's religions, spiritualities, histories, and cultures, Wind confronts questions without answers, testing his core beliefs. Wind's mental meanderings throw the plot out of sync, forcing readers to decipher the connections between the mystery and the tangential moments of insight into character . Wind seems hollow despite copious descriptions, flashbacks, and inner monologues; his Pez collection comes across as Rothacker's unsuccessful attempt to give him some quirky humanity. His perspective on his own relationships remain shallow, isolating him from the other characters and, unfortunately, the reader. -
Publishers Weekly
Reviews of the book:
Cleaver Magazine
As It Ought to Be
Cultured Vultures
Interviews about the book:
Cease, Cows
Great Writers Steal
The How The Why
Jordan A. Rothacker,
The Pit, and No Other Stories, Black Hill Press, 2015.
excerpt

(pdf)
As a micro-epic The Pit has a little of everything: small town American gothic, detective fiction, spy thriller, Hollywood drama, folklore, science fiction, historical fiction, surrealism, horror gore, punk romance, and satire of American capitalism and consumerism. The Pit, and No Other Stories, might be a familiar reading experience to that of viewing the ABC television program, Lost. Many characters, different story lines, obvious points of connection, some less obvious, and many fun, stage-setting red herrings. The Pit has deep important themes about the failings of the American dream, exploitation, and objectification of humans, but it also expresses a deep veneration for storytelling, narrative, and the triumph of the human spirit through art.
"The Pit is a journey in itself, a ride with flashes of life and an ending in a place, in a world, you didn't quite anticipate."
Rothacker opens his novella with a vivid image of a small community in which all inhabitants eventually are hurled into, well, a pit. Just as the title suggests, the Pit is our central location. In a town, aptly named Pittsville, our narrator who remains as mysterious as the Pit itself has ventured down below in search of a watch promised to him by his grandfather upon his deathbed. The first chapter pulls the reader into a world where the inevitable is a focal point, and hints at it as something to strive towards. This is not a world of traditional burials and ash scattering; once someone has expired they are given to the Pit in a funereal fashion. After the narrator witnesses his grandfather "going over" with this promised watch still secured to his cold wrist, he sneaks out to see just how far he can reach to get back what was meant for him. As soon as he falls in, Rothacker changes the channel.
We land in 1959 New York City, inside the office of a private investigator in conversation with a potential client who has no more information on his target than a nickname, The Speckled Hen. Not only have the time and place transformed, the way of talking and character's tones are completely new. There is a hardboiled feeling added to the plot–yet a dark curiosity felt with our first character remains within this American Noir portion of the novella. This curiosity, along with the Pit, continues to rise, fall, and rebuild itself throughout the remainder of the novella.
From the P.I.'s office, we are taken on a wild ride through rainy Shanghai in 1945, fast forward to a Hollywood in 1982, drop down to Chicago in 1956, eventually falling further back in time to 1812 West Africa. There is a natural attempt to piece together the characters encountered in these various time periods and locations but Rothacker turns the corner so rapidly that the threads seem to unravel quicker than they're sewn. This isn't a jab at Rothacker as his chapters are packed with enough life to quickly settle you into your new environment. He's done the research and taken the time to carefully craft the people we experience within a limited space. Many of the voices we find in The Pit are as varied as the stories we find them in. There are moments of West African Islamic Law, Mao's takeover, and UFO sightings. Some characters return while others make a single yet impactful appearance such as an American Indian grandmother from 180 BC who begins a journey from which she may not return. However, everyone we encounter eventually meets a very similar fate that is difficult to ignore.
The Pit is an existential take on the after-life, the talk of where we go afterwards except modeled by an almost tangible place.
The Pit, And No Other Stories
is exactly what is presents itself as, it may seem at first as if the first six chapters serve as seven different stories all beginning with our unnamed character who falls into the Pit accidently, but slowly they begin to intertwine and unwind until we realize that there is indeed, only one story here. It is a novella full of histories and ideas. It is a story about the trials and obstacles that fall into our path as we desperately try to unearth the genius within something we deeply care for.
The Pit is a journey in it self, a ride with flashes of life and an ending in a place, in a world, you didn't anticipate but because of Rothacker's craftsmanship, you find yourself wholeheartedly accepting.
An Interview With Jordan Rothacker:
M
:
The Pit, And No Other Stories
is just that, what a brilliant title, it takes place within many time periods and places, with a variety of voices. When did you stumble upon this idea? Did you fear for your reader? (Meaning, because there were so many sub plots though they all tied into a bigger portrait…)
J
: Thank you. I worry that the title is cumbersome, especially when people ask, "So you wrote a novel, what's it called?" and I tell them and then they ask, "Is it a story collection?" and I say, "No, it's a novel. It's
The Pit, and No Other Stories
." I occasionally feared for my reader, but ultimately I trust my reader. Due to television shows like Lost or really so much in film and television and literature, people handle far more non-linear narrative than they realize. And of course it's linear when it comes down to it. You start at the beginning of the book or film and you read and watch to the end, a straight line. William S. Burroughs used to talk about, in the 50's and 60's, how literature was behind visual mediums, but ultimately it is the way humans naturally tell stories, we jump all over the place, we digress, we give flashbacks and even flash forwards as we hint to the punch line of the story before we get there. In some ways I see The Pit as a more accessible or dumbed-down version of what Burroughs has done in so many novels in regards to form or what Italo Calvino had a good time playing with.
M
: I've studied many religions myself though not to your degree or level. What influence would you say your M.A. in Religion had on this novel? What about the ideas of death within the religions you've studied?
J
: The first novel I wrote, about ten years ago, is very much a religious novel. I actually took on the M.A. in Religion as research for the book (which is set in Atlanta and the reason why I did the MA in Georgia) and my M.A. thesis was comprised of two chapters from the book followed by an exegesis and annotations. I specialized in religion and literature in my coursework. It's a discipline mostly coming out of Chicago and it is often said to begin with a text like
The Heart of Darkness
. Horror and horror in the face of the Modern is explored in this study. I also got into post-colonial studies and now combine that with romanticism in my PhD work and dissertation. Both Romanticism and Post-Colonialism are a reaction to the Enlightenment in their own ways. They seek to return a voice—and power—to those marginalized by the Enlightenment Project, so that includes the feminine, the indigenous, the non-white, the pagan, and often merely the religious, for religions are irrational, like the arts. All the "Others" of the often male, rational, white, Euro-American "Self." While writing
The Pit
these thoughts certainly got in there. I thought about Burroughs a lot as I wrote this book and I often think of him in a religious context, as a mythmaker like Borges, Faulkner, Danilo Kis, and Amos Tutuola, like Hesiod, or Snorri Sturluson who wrote the Eddas.
The Pit
for me is a roundup of how I see different American myths. As far as a religious connection with death, I mean, it's right there in the first chapter,
The Pit
is a funereal site. This weird small town gothic setting has a secret from the outside world that involves how it handles death. There is a lot of death and religion in the book, come to think of it. I think you're on to something…
M
: Reading through the novel, I couldn't help but feel similarities within other greats that I've read, particularly
Slaughter House Five
by Vonnegut. Was this an inspiration for you? What other inspirations did you have writing this?
J
: I hadn't thought of that Vonnegut book, but without giving anything away for someone who hasn't read
The Pit
yet, I can kind of see it in the "outside of time" stuff. I do like that book though; I re-read it a few years ago on the plane over on a visit to Dresden. It certainly enhanced my Dresden trip. As for other inspirations, I got to meet Margret Atwood at a reading a few years ago and I was so giddy, she's so great. One of her books that had a great effect on me I read back when I was like 19. It was a slim collection called,
Murder in the Dark
. It was the perfect book for that age, too. It showed me how ok it was to break down form in a really interesting way and how much can be done with so little space. The Pit was about me returning to that youthful excitement of playing with form. For some reason in my twenties I couldn't feel legit without writing a long naturalistic novel. That novel has yet to be published, but direct inspirations for The Pit would be Burroughs'
Cities of the Red Night
and Italo Calvino's
If on a Winter's Night A Traveler
.
Romanticism and Post-Colonialism are a reaction to the Enlightenment in their own ways. They seek to return a voice—and power—to those marginalized by the Enlightenment Project, so that includes the feminine, the indigenous, the non-white, the pagan, and often merely the religious, for religions are irrational, like the arts. All the "Others" of the often male, rational, white, Euro-American "Self." While writing
The Pit
these thoughts certainly got in there.
M:
What about some subconscious inspirations, who are your favorite writers?
J
: That's always a tough question, but I guess it's a bit easier than asking what my favorite book is. For that question I'd give you a list of books, most likely categorized. Of living writers I have a deep love and appreciation for William T. Vollmann. His brilliance, breadth, and proficiency is really seen in an artist, as well as the heart and social conscience he brings to his work. Reading him makes me a better writer, thinker, and person. Some times I say he is our Tolstoy and Dostoevsky wrapped up in one. He is one of the great living American writers and for skill and importance I put him up with Toni Morrison, John Edgar Wideman, Cormac McCarthy, and Thomas Pynchon of our country today. As far as other favorites go, Maggie Nelson is brilliant and the way her mind is able to harness great thoughts and deliver them with such style gets me really excited. I really love Steve Erickson and look forward to a new book from him next year and Cesar Aira blows me away. Writers of the past who get me super excited—just the first few that spring to mind—are William S. Burroughs, Anna Akhmatova, Hesiod, Ovid, Ousmane Sembene, Frantz Fanon.
M
: This novel really ignites existential thought, not only through the construction but the ideas presented, ideas many people avoid. I found myself, while reading the novel, constantly thinking and venturing into deeper places. Was this the intention you wanted for your reader? Or did you envision the reader at all?
J
: I love that you read it as existential. I mean I finished it after really loving what a perfect creation the first season of True Detective was. That show brought me back to reading Schopenhauer, Nietzsche, E.M. Cioran, as well as the Ligotti and Chapman that inspired it; and Vollmann had just published his gothic masterpiece,
Last Stories and Other Stories
. Delving into that infectious darkness, letting the pessimism wash all over you can be an engaging journey. I have to live in the world and get up every day and experience the joy and beauty of life and the people I love, but I never stop thinking about how humans are the worst species, that ultimately we are doomed. People love going to these places, the fantasy of darkness, horror movies, and literature. The arts let us tour these dark places. That's why I think of this as an entertainment or a jive book. I'm glad it made you think and I hope it makes others think and value life in regards to death, but there are a lot of people in this world, this country and abroad, who don't have the luxury of dabbling in darkness because they live some pretty awful situations. There's one book that I read last year, which still haunts me deeply entitled
The Corpse Exhibition
, by Hassan Blasim. He is an Iraqi who now lives in Finland. The book is a collection of stories all set in contemporary war-torn Iraq. They are masterful and horrific, sometimes even surreal, and very hard to characterize. I've called them "war-zone gothic" for lack of a better term. Though the stories are macabre and might feel like horror writing, the thing that hits you the hardest is to know that they are based in an awful, awful reality that is part of daily life for so many people.
M
: Where does death come into all of this? Does it? You seem to bring a metaphorical sense of death and sit it next to concrete examples.
J
: The pit of the title is a funereal site for many who encounter it in the book. For others it involves new life in a weird way—but I'll give no spoilers. There is a real cyclicality about life and death that flows through this book. It's hard for me to imagine this giant deep Pit that is described in the first chapter without thinking of Ouroboros. That ancient Greek symbol loved by alchemists. It is the "tail-eater" and like many great serpents of myth—the Midgard serpent comes to mind—it is often associated with beginnings and ends. So, it is all about death but also new life, kind of how the Death card in the tarot just represents change. In some ways, and I don't want to give too much away, but it seems like, in the book, that inside the Pit is a sort of liminal space, or a bardo, as mentioned in some Buddhist teachings. A between life and death, a place of becoming and potency, the place where the shaman or the artist goes in their practice. Hemingway was asked once what he thought about death, and he replied that it was "just another whore." Maybe in The Pit it's "just another trope" or "just another metaphor."
M
: You bring life to characters from many different walks of life (Black Muslims, American Indians, Chinese, even a man who sees a UFO), what sort of research was involved with this?
J
: That's the fun of a book like this and the restrictions I had upon myself: each section and plot line involved its own problem solving. Some sections required research by studying maps, digging through histories and chronologies, and some sections were just pure imagination pouring forth. I've taught an African Diaspora Literature class at UGA I think 20 different times over six years and yet still I went in to telling my own original slave narrative from a cautiously researched place. The device of that narrative voice in those sections worked out pretty well.
M
: Why did you choose the particular backgrounds and stories you chose?
J
: The whole book began for me with that first story and writing it to try my hand at this American trope of the small town gothic, a Shirley Jackson or even Mark Twain type thing. And then it became for me all about exploring all the different American tropes I like, the detective noir, the sc-fi, the southern slave narrative, a nautical/pirate story, Native American folklore, a desert roadtrip, aliens sightings over a cornfield, the tragic Hollywood fall of an actor, and even corporate business. Some are, of course, more serious than others and I spent the most labor and worry over the Native American and the African American slave portions.
M:
I took note of some sentences that stood out to me, would you mind elaborating or explaining your thought behind two of them for fun?
J
: Sure!
M
: "With his father gone, Quentin stopped even pretending to hide how free Amadou really was, or how integral he was to the business… The African-American experience is the most important lens by which to understand America itself." I was really intrigued by this.
J
: In Steve Erickson's last novel,
These Dreams of You
, a great book about race in America—so good that I even taught it despite the fact that he is white—he mentions that the American Dream belongs most to the African-American because it was betrayed for them (their ancestors) en route and yet they have stayed for generations and made America home despite the betrayal.
M
: "I watched the black bile sparkle and pour from my mouth like stars from a pitcher in the sky… But to her my front was an appetizer. And she was the most frightening and real woman I'd ever met." The imagery in of a pitcher filled with stars is very poetic.
J
: That image just came to me; I think I was picturing something astrological, like a medieval drawing of Aquarius maybe. I guess I also pictured how activated charcoal would look if one were to vomit it. I've never tried ayahuasca actually. -
Melissa Ximena Golebiowski
asitoughttobe.com/2015/10/05/jordan-a-rothackers-the-pit-and-no-other-stories/
More reviews:
Athens Banner-Herald
Flagpole Magazine
July 26, 2016 a wonderful lit mag called Boned published my short story,
"Taking the Bone."
In June of 2016, a zine out of Chicago ran an excerpt from my never to be finished work,
Bomb
.
The 1888/Black Hill Press anthology from 2016, Cost of Paper vol 3, features my short story,
"Stan of Changes,"
amongst so much other great writing.
The 1888/Black Hill Press anthology from 2015, Cost of Paper vol 2, features
Three Parables
by me along with lots of other great work.
Jordan A. Rothacker is a poet, novelist, and essayist living in Athens, Georgia where he earned a Masters in Religion and a PhD in Comparative Literature at the University of Georgia. Rothacker majored in Philosophy at Manhattanville College in Purchase, New York and his life has been split between Georgia and New York (where he was born); he dreams of going west. His journalism has appeared in periodicals as diverse as Vegetarian Times and International Wristwatch, while his fiction, poetry, reviews, and essays can be found in such illustrious venues as Red River Review, Dark Matter, Dead Flowers, Stone Highway Review, May Day, As It Ought to Be, The Exquisite Corpse, The Believer, Bomb Magazine, and Guernica. For book length work check out Rothacker's The Pit, and No Other Stories (Black Hill Press, 2015), and novella (or "micro-epic" as he calls it) and his first full-length novel, And Wind Will Wash Away (Deeds Publishing, 2016). His fiction can also be found in The Cost of Paper: II (2015), The Cost of Paper: III (2016), and The Cost of Paper: IV (2017), anthologies from Black Hill Press edited by William M. Brandon III. He loves sandwiches (a category in which he classifies pizza and tacos) and debating taxonomy almost as much as he loves his wife, his son, his dogs, and his cat, Whiskey.